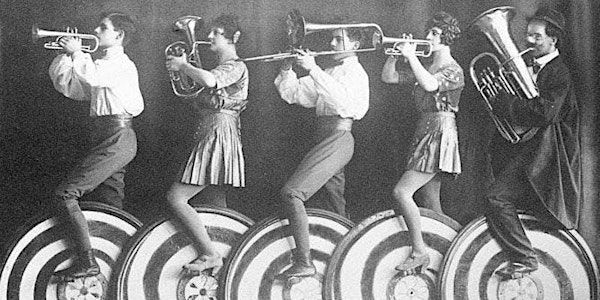 BIG BRASS EXTRAVAGANZA with Ten Man Brass Band, Jonny Sonic, Vamola, Butt Dial
When and where
Location
Nectar Lounge 412 North 36th Street Seattle, WA 98103
Description
12.13

Thursday

(Brass Bands)
Nectar & SolidSound present:
Nectar Lounge
412 N 36th St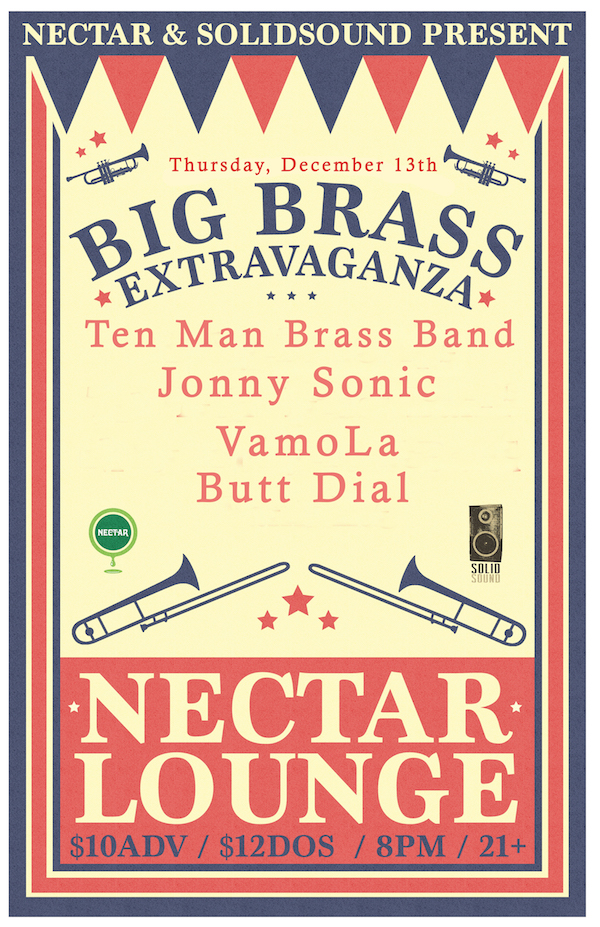 TEN MAN BRASS BAND
The Ten Man Brass Band has been filling the streets and festivals of Seattle with powerful all acoustic brass music since 2011. In the tradition of the Youngblood Brass Band, this young and energetic group of musicians mix the genres of New Orleans jazz, pop, funk, and electronica. They have toured Northern California and Oregon and aim to create a dance party wherever they land.
JOHNNY SONIC
The Idea
"Jonny" is anonymous (i.e. "Jonny No-name", "John Doe"). "Sonic" is sound. Jonny Sonic, the idea, is that voice inside all of us that propels us to say what we need to say, to do what we need to do.

The Artist
Jonny Sonic, the artist, is Rick Kowal - HandPicked Entertainment's producer-at-large. He is a composer, arranger, engineer - and remixer (lamb, Radiohead, Fading Collection, Twilight Babies). His tunes have appeared on MTV's Real World, The Discovery Channel, and Fashion Week runway shows in NYC. He is one of the vocalists in renown traveling circus band: Super Geek League - headlining their own BuskerDoozie stage at last year's Sasquatch Music Festival. By day, he writes/produces music for TV spots (VH1, Chevron, Dr. Pepper, Toys'R'Us, Chase, BMW, Starbucks). By night, like a pied piper of players, he steals the choicest musicians from a gaggle of Seattle bands to build one of the biggest horn-driven hullaballoos to hit the West Coast. This pet project starts in the studio where the songwriter and multi-instrumentalist lays down the foundations for his compositions and sets the stage for...

The Band
Jonny Sonic's Phenomenonsemble is a 13-piece that proves that we only accomplish anything together. The backbone of the rhythm section is Kowal's long-time musical collaborator, drummer Tacket Brown. Add in two tubas (Miles Ward's "The Funk Engine", Scott 'Boomer' Bloom), two baritone saxes (Emily 'Emperess' Smith, LuLu Belle), two tenors (Blizzard Fay, Stanley Pierce), and three trumpets (Lip Service by Sunshine, Lu Badu, Brasswax). On the live stage, bassist Chris Cullman and keyboardist Erik 'EMC' Chillman ply the gritty rhythmic particulates, and Willy Will Wax adds additional vocals.

The Album
With his third full-length release, "The Grit", Jonny Sonic displays a modern musical polyglot reaching the top of his songwriting, lyrical, and production games all at once. With mind-bending beats, elephantine horns, and hooks to hang your harried heart upon, "The Grit" has something to say and says it again without it's mouth full. It's a rare treat when music that makes you move also makes you think.
Vamola
VamoLá! is a Seattle-based Brazilian drum and dance ensemble that brings the spirit of Carnaval to life through vibrant parades and performances. Our main focus is on Rio-style samba, but we perform a variety of other music and dance styles from all over Brazil. Our name means, "Let's go!" in Portuguese, and we do just that — we get people going!

Butt Dial
Shaking local watering holes all over Seattle since 2013, Butt Dial—also known as The BD Brass Band for faint of heart venues—is a high energy octo-collective (2 trumpets, bari sax, trombone, tuba, guitar, bass & drums) featuring members of Sound Wave Sounders FC Band, Chaotic Noise Marching Corps, The m9, The Psychotronics, High Water Passage, and Super Geek League.
Do you like Sly & The Family Stone, The Black Keys, The Tokens, The Ohio Players, and Black Joe Lewis? So do we. Especially when they've been filtered through an insistently distorted surf2unk trio, bolstered with a war chest of assorted horns, and selectively seasoned with powerful croons and hollers.

If you want to shake the end result of countless permutations of genetics, there's only one call to make - Butt Dial!