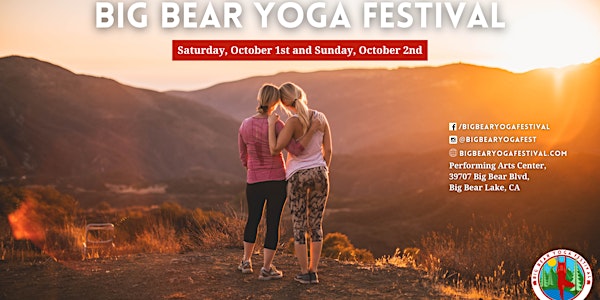 Big Bear Yoga Festival 2022
Welcome Back to the Big Bear Yoga Festival!
When and where
Location
Big Bear Performing Arts Center 39707 Big Bear Boulevard Big Bear Lake, CA 92315
About this event
Big Bear Yoga Festival 2022
Two days of music, movement, health, food & fun! You can choose from lectures on health and wellness, a wide range of yoga classes, yummy food, live music and guided meditation along with lots of outside fun like hiking, browsing in Vendor Villiage, Kid's Play Area, and more! Absolutely plan on coming, it will be phenomenal!
Festival Passes Include:
Advance Festival Registration
Vendor Village Admission
Free Parking at 630 Knickerbocker Road
Free Shuttle to Big Bear Yoga Festival
Outdoor Activities and Classes: Lots of classes to choose from!
Kids 12 and under are FREE!
What is going on at the festival?
We have multiple yoga classes going on over two days, including music, movement classes, lectures on health and wellness, guided meditation and more! Also our location has great hiking trails and picnic tables. Come ready for fun and willing to share in your great energy!
What should I expect at the festival?
Expect a beautiful yoga event in the San Bernardino Mountains. We play under the sun and trees. Our yoga workshops are held inside and outside. Music is vibrant. The vending area is full of small businesses with amazing offerings. Dining options include pizza, smoothies, sandwiches, and delicious meals plus fresh juice and lemonade! More than anything, expect a welcoming and fun festival full of music, movement, health, food and fun!
What should I bring?
We love the mountains, but weather can vary and you should plan accordingly. In October the days can be warm, and the nights cool. Bring hats, sunscreen, and appropriate clothes. Oh, and of course your yoga mat and any props you prefer using! A blanket or meditation cushion is helpful if you plan to participate in meditation. You may also want to bring a notebook and pen, a refillable water bottle, slip-on shoes and of course, comfortable clothing that will allow you to move freely.
Dining Options: We have amazing vegetarian vendors coming this year! Love Amaro Pizzeria, Impeccable, Energy Smoothie Bar, Extreme Elotes and More PLUS drink vendors Kompoocha Brewing, Auraganic Juicery and The Lemonade Gurl! You can bring your own food items also. There are many picnic tables at the festival and on the hiking trail to enjoy.
Can I help spread the word about the Big Bear Yoga Festival?
Yes! We would love your help! Please email us at: aberns@hotmail.com and include BBYF in the subject line.
What is included in the registration cost?
In addition to your choice of workshops, lectures and classes with master yoga teachers, you have access to: Guided Morning Meditations, Meditation space in the mountains, live music, Kid's Play Area, Vendor Villiage and more!
Do I need yoga experience to attend the classes?
You do not need any experience for the majority of classes. The teachers are trained professionals, and can accommodate beginners. Classes are marked by level of difficulty. Classes geared towards intermediate or advanced students are identified for your information.
Can I bring my pet?
Sorry, but ABSOLUTELY no dogs whatsoever (except guide or service dogs). We love the dogs, but they should stay home where they are safe.
Can I get tickets at the door?
Yes.
Do I have to sign up for classes in advance?
No. All of the classes are open to all festival goers with tickets, first come first serve. You may choose to take whichever classes you wish, when you wish.
Can I be a vendor at the festival?
Yes! We are seeking vendors that fit with our focus on music, movement, health, food and fun! Email us at aberns@hotmail.com for more information.
How do I get to the Big Bear Yoga Festival?
The festival is easy to drive to, and is within a few hours drive from Los Angeles, Las Vegas, Palm Springs, Orange County, and San Diego. We encourage people to carpool! Coming from a distance, you can fly into the Ontario Airport. There are a few commuter buses too.
Where can I park?
Parking is FREE! Park at 630 Knickerbocker Road and a FREE shuttle will take you to the festival location. The parking area is right in the heart of Big Bear Village, so you can shop and dine. SPECIAL suprise for all who park and take the FREE shuttle! You can also jump on the shuttle at the nearest shuttle stop to you!
Are children welcome?
YES! Children are welcome! We do NOT provide child care, please plan accordingly. There are plenty of family and kid-friendly activities.
Who should come to the festival? What about people new to yoga?
Everyone is welcome! Anyone new to yoga is especially welcome – we have beginning, easy and introductory classes just for you! This is a wonderful opportunity to explore and try something new! More experienced students will also have a wide range of classes to pick from, and an opportunity to deepen your practice. Bring an open mind!
Need some self-care? Time with friends? Connect with your tribe? In our world today it can feel isolating, hard to change habits, and challenging to find joy. We provide a mountain backdrop for you to relax and take a break from the rush of day-to-day life. Take time for yourself, time to learn something new. Learn take-home practices supporting you in health & wellness. Connect with like-minded and like-hearted people.Feel refreshed from the weekend. Experience how to laugh, even when it can be challenging in our daily lives. Enjoy tasting different foods. Make memories with your friends. Experience transformations.          
Health and Safety Protocols:
At Big Bear Yoga Festival your health and safety is paramount. Our new Health and Safety Protocol focuses maximizing the use of outdoor spaces. We will be following social distancing protocol indoors with 6 foot spacing in classes. We will follow County Health and Saftety requirements and those required by the venue at the time of the event.
Anything else?
We want you to have the best time at the Big Bear Yoga Festival! Bring yourself and your amazing gifts and energy to share. Leave any worry, let it wash away as you travel to come to the mountains and open your heart to an amazing experience. Focus on bliss, having an open heart and open mind. Say hello to someone new, met a new friend, give someone a hug and connect with new people. Share your thanks and appreciation with the musicians, volunteers and teachers! YOU ARE A BLESSING!
WE LOVE YOU!!!
Email us if your question is not answered here: aberns@hotmail.com