Big Bass Allstar Variety Show Willy Whompa, niCo luMinous, Kiran NoteZ...++

Friday, January 11, 2013 at 9:30 PM (PST)
Event Details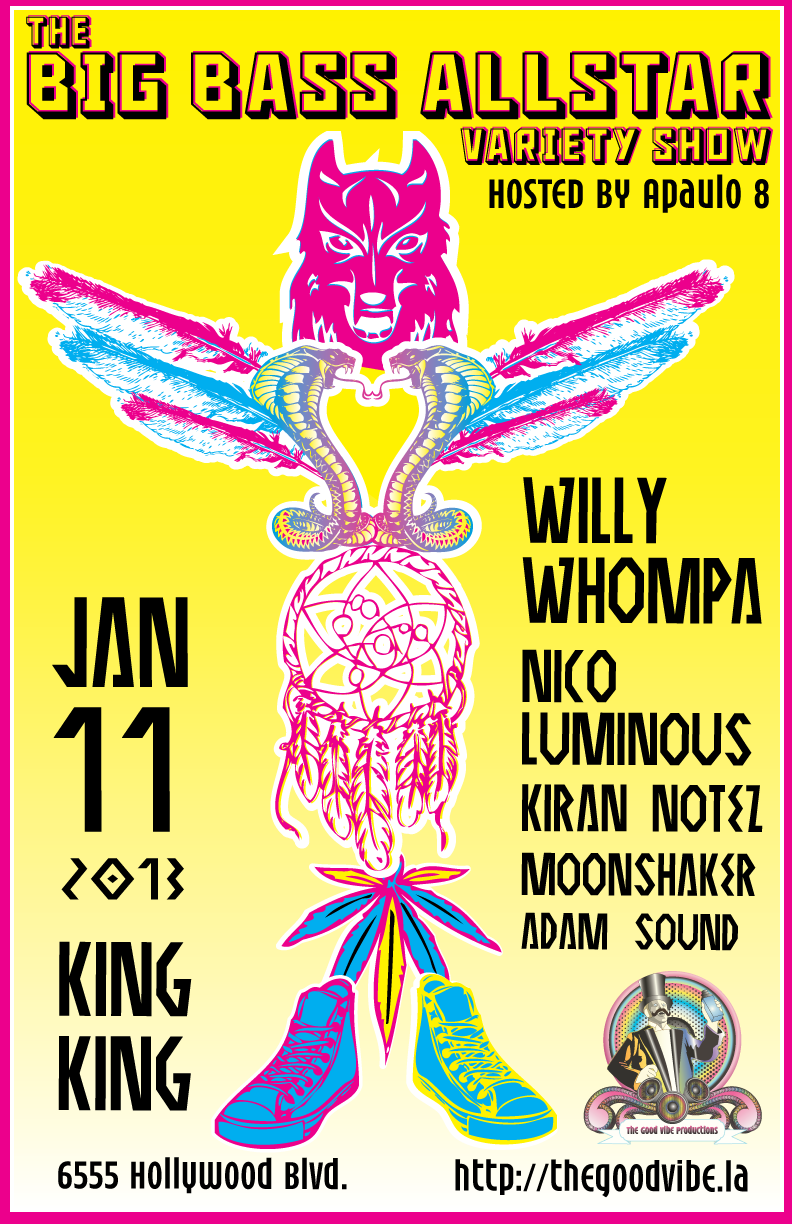 The Good Vibe Proudly Presents their 23rd installment of The Big Bass Allstar Variety Show at the Legendary King King Venue in Hollywood, CA. Big Bass always entertains the masses with a live band and a full lineup of DJ's Playing Back-to-Back Sets on two Stages, with visuals, dancers, live painters, vendors, music 'till at least 3 AM and a Full Bar 'till 2. Set your dials to womp as we welcome the heavy, sexy Bass of Willy Whompa, the all-original West Coast Bass Production of niCo lumiNouS, and KiraN No
teZ, and the collaboration of the tag-team of Dirty Bass, Moonshaker (Mahal and Bstee). Hosted by Fresh Festival Hip-Hop MC Apaulo8.
Willy Whompa:
https://soundcloud.com/

willywhompa
Whompa knows how to crack a party wide open with heavy, intense Bass. His Production spans the genres of Dubstep, Glitch and Traps 'o' so greasy. Gaining excellent exposure by kissing playa dust this year with Sets at notable camps including Camp ? and Roots Society. His library of remixes is extensive and explosive, with re-works of everything from Ludacris, to +Verb and Stephan Jacobs. His bio states: "I make music for you to get pregnant to".
niCo luMinouS:
https://soundcloud.com/

nicoluminous
With a divine, steady flow as an MC, and some of the hottest draped up and dubbed down beats produced on the West Side , Nico Luminous stays completely dipped into the future. Nico uses his energy to rap tight flows over fluid mouth-made beats on his home-made beat boxin; effects havin' belt pack; turning any average music fan that walks by into an jaw-dropping instant fanatic. His versatility is unmatched, ready to break open the bubbly with dubtastic DJ sets or a live MC experience that will blow your mind. Nico's presence has been felt all over Burning Man for almost a decade, most recently bustin' out beats and flows on The Dirty Beetles' Boogaloo Bus. Catch Nico Luminous poppin' off Intergalactic Bass Vibes at our Big Bass Allstar Variety Show on the January 11th alongside Bass Compadre Co-Headliners Kiran NoteZ and Willy Whompa.
Kiran NoteZ:
https://soundcloud.com/

kirannotez
Bass Music Producer and abnormal human from Philadelphia...currently in Los Angeles. Kiran has been producing music for over 10 years...He is known for his sick beats, high energy and glitchy new age sounds. Dig a little deeper to unveil his inimitable personality, and unfaltering ethic to design masterpieces that not only appeal to his Hip-Hop upbringing, but incorporate today's most popular yet unique live instrumental sounds to the genre known today as Dubstep and Glitch-Hop. His music is filled with the passion of a composer, with the flavor and style of the street. His diverse styles fit almost any pallet. From Metal remixes to crunky glitch hop Kiran covers it all. From his first performance this self- trained musician has been something special, I can't imagine what Kiran has coming next! Kiran will be releasing under his own label Basshop Records
MoOnSHakER:
https://soundcloud.com/

moonshakermusic
MoOnSHakER: MoOnSHakER combines the heavy-hard hitting filthy Bass of Brian "Bstee" Steele and Mahal as a collaborative Tag-Team Duo. Fun onstage presence + Heavy, Danceable Dubstep = Win. Their Hour Long "BassFace Set" is available as a Free Download on their Soundcloud Link above. It includes works from Phutureprimative, Ionik, and a mid tempo Alpha Data Remix of Red Hot Chili Peppers' "Can't Stop". Simply stated, it's a Dank Mix! MoOnSHakER will warm up the crowd nicely on a Friday!
Adam Sound:
http://www.adamssound.com/
Singer/Songwriter, Adams Sound has been crafting pop music by blending uptempo funk and reggae into folk songs played on his acoustic guitar. The unique and distinct vibe is an extension of his musical and personal roots."I grew up in a broken home that was full of toxic energy. Addiction, despair, and violence is what I was surrounded by on a daily basis. It was the music that I would hide behind. I would close my door, start writing songs, and shut off the world. Positive, uplifting music has always given me the energy to overcome and rise above life's challenges. My family gave me the gift of rhythm as they would introduce me to African music and Bob Marley. I started getting into more experimental genres such as Outkast and Sublime. I never wanted to fall into the same patterns of the people in my community. I used my intuition to guide me and found a way out." Adam is now an accomplished music producer and singer/songwriter. He has managed to make a life out of performing, producing, and licensing his songs. He is currently in Los Angeles making his debut album and finding the right musicians to tour with.
Apaulo8:
https://soundcloud.com/

apaulo8
At the age of sixteen Apaulo8 (aka Apaulo Infinite) hit the festival and rave scenes as a Dj, mixing Hip Hop and Break Beats, performing with some of the biggest names in Hip Hop including Nas and Outkast. At 20 years of age he founded a band called Lighter Side Of Being, getting more into the live aspect of music, playing guitar, rapping, singing, and mixing jamband styles with reggae, hip hop and a pop aesthetic. Lighter Side has gone on to do shows with Bob Weir, Umphree's Magee, and more, but it wasn't until he started working with Garret and Mark Boyce of G Love And Special Sauce that he got his break. This alliance formed a new band and a hit album in Southern California named 3rd Borough, which instantly put him on the map as a fresh voice in the SoCal music scene. 3rd Borough's eclectic mix of cameos by heavy hitters (Wu Tang Clan, Jurassic 5,Slightly Stoopid, G Love and Special Sauce) made an album that was extremely unique. Something like the beatles meets modern hip hop. This lead to him appearing on stage as a featured MC and vocalist with all types of acts, including Knowa Knowone, Main Flow (of the Blackstar/Talib Qwali camp) G Love and more. Apaulo is currently releasing his first solo album through Street Ritual, putting together a Dub/Glitch /Hip Hop /Pop sound that can't be resisted. If you wanna sweat, dance, cry, and laugh, this act will not let you down. The next level of west coast music, conscious lyrics, cross pollinating with Dubstep and glitch-hop dance beats.
Have questions about Big Bass Allstar Variety Show Willy Whompa, niCo luMinous, Kiran NoteZ...++?
Contact The Good Vibe
Organizer
The Good Vibe
The Good Vibe is creating some of Los Angeles' freshest and most innovative electronic music events. Check out our new monthly at King King, The Big Bass Allstar Variety Show the 2nd Friday of every month. We've got a whole bunch of great stuff going on here in Los Angeles! Check out our site, join our email list, come n' getchu somma 'dat BASS!
Big Bass Allstar Variety Show Willy Whompa, niCo luMinous, Kiran NoteZ...++