Big Bang! Workshop: Write to Win - Developing Your Executive Summary
Description
Write to Win: Developing Your Executive Summary
A key element in developing a viable business is clearly articulating the problem you are solving and your proposed solution. In this workshop, develop your initial key elements to define your business – the problem, solution, and elevator pitch – and craft these elements into a concise and well-written executive summary.
The Big Bang Business Competition Round 1 deliverables include an executive summary. Get a head start on this important deliverable with this hands-on workshop taught by Ken Andersen, assistant director for business writing for the University Writing Program at UC Davis.
About our guest speaker... Ken Andersen, University Writing Program
Ken is a continuing lecturer in the University Writing Program at UC Davis where he teaches Business Writing, Journalism, Technical Writing, Science Writing, and Advanced Composition. He also developed and teaches the Business and Communication Summer Internships Abroad courses, which take students to Hong Kong and to cities across New Zealand. He is the chairperson of the Association for Business Communication Undergraduate Studies Committee and a member of both the Society of Professional Journalists and the Association for Education in Journalism and Mass Communication.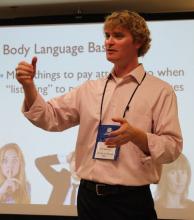 ---
Hosted by the UC Davis Institute for Innovation and Entrepreneurship, the Big Bang! is the largest annual business competition in the Sacramento region.
Refreshments will be provided. This event is free but registration is requested.