Big Bad Voodoo Daddy

Saturday, July 5, 2014 at 5:00 PM (PDT)
Event Details
July 5th, 2014
Doors 5:00pm - Show 7:00pm
Robert Mondavi Winery
SUMMER FESTIVALS
Concert FAQ
1. What time do the doors open?
The doors open at 5pm or once the artist has completed sound check. We must wait till sound check ends prior to guests being allowed to enter the venue. We do not allow pre-placing of blankets or chairs. For those guests with special needs please refer to question #9.   
2. What time does the concert begin and end?
Concerts begin at 7pm. Concerts typically end between 9:00 and 9:30pm.
3. Is there an intermission?
All concerts have an intermission that lasts about 30 minutes. Once intermission ends our retail shop closes and wine sales end.
4. What are the different ticket levels?
General Admission Ticket – Guests provide their own low beach chair or blanket to sit on the lawn.Lawn beach chairs are defined as:  Lawn chairs must have a seat lower than 12" from the ground and the back must be lower then 35" from the ground.  NO HIGH BACK CHAIRS WILL BE ALLOWED INTO VENUE.
Maximum cooler size 18"H x 24"W x 13" D. 
Reserve Patio Seating:  This is a new seating area for our venue.  A small section on our new patio located adjacent to our vineyard room where we provide you a chair (20"W X 24"D X 32"H X 17" SH).  Row and seat numbers are not given at the time of purchase and are assigned by our venue on time and day of purchase.  You will be provided your seat assignment upon arrival by one of our patio seating attendants.  Maximum cooler size 18"H X 24"W X 13" D.

Reserve Lawn Tickets – A small intimate section of the lawn in front of the stage where we provide a low beach chair.  Row and seat numbers are not given at the time of purchase and are assigned by our venue based on time and day of purchase. You will be provided your seat assignment upon arrival by one of our reserve attendants.  The low beach chairs are 12" off the ground, suggested weight limit 250 lbs.  Maximum cooler size 18"H x 24"W x 13" D.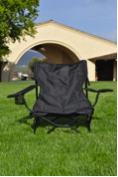 Dinner Ticket – dining at the edge of the To Kalon vineyard you will enjoy a stand up wine reception in our cellar. The reception begins at 4:45pm and ends at 5:30pm at which point guests are escorted to the concert venue to sit among the vineyard to enjoy a family style dinner prepared by our in house chef.
Dinner includes Robert Mondavi Winery wines. Dinner is served family style from 5:30-7:00pm. Guests should plan to arrive no later than 5:45pm for dinner. Your seating assignment will be provided upon arrival at check in.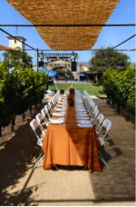 5. How do I receive my tickets?
Tickets may be purchased online through www.eventbrite.com 7 days a week 24 hours a day. You can choose to print tickets at home or have them mailed to you. All tickets are charged a service fee based on amount of tickets purchased. You may also contact the winery at 1-888-RMW-JAZZ(5299). Winery ticket office hours are Monday through Friday from 10:00am – 4:00pm (PST). Please Note: When calling our box office for tickets you will receive a voice mail to leave a message for a return call. The best method of purchasing tickets is to go on line to www.eventbrite.com.
Please note that Robert Mondavi Winery and Eventbrite are NOT responsible for lost or stolen tickets. Tickets are required for children and adults of all ages. Please kindly consider others when deciding to bring small children to the show.  All tickets sales are final and non refundable. All artists and times are subject to change without notice.
The venue is outdoors, the series is rain or shine. 
6. What is allowed vs. not allowed to bring into the venue?
Allowed: Guests may bring in food, non-alcoholic beverages and small coolers - Coolers not to exceed 18"H X 24"W X 13"D 
Not allowed:  Alcoholic beverages, pets, barbecues, cameras, video or audio equipment.
7. Where do you park and what is the cost of parking?
We have limited on-site parking and carpooling is highly encouraged. There is no charge for parking.
8. Can I bring in food or are there any food vendors on site?
You are allowed to bring food and non-alcoholic beverages into the venue. Coolers are subject to inspection.
Dinner concert ticket packages are available.
Concessions will be available inside the venue including BarBers Q, Ben & Jerry's, the Vintage Sweet Shoppe and Napa Style.
All food is subject to availability. Pre orders can be made and are encouraged which can be made directly through contacting the vendor. BarBersQ  http://www.barbersq.com/events.php
9. What if I have special needs? (Accessable Seating)
Special needs seats are available at all price levels.  Please call for information: 1-888-RMW-JAZZ(5299).
10. What is the weather like during the concerts?
Our concerts take place outside and we can experience temperatures ranging from 80 degrees to 100 degrees. Days can be warm but it can cool off as the sun goes down so we recommend that you bringa light jacket or sweater. For more up to date weather information please visit www.weather.com. 
11. Do you have lodging recommendations for staying in the Napa Valley?
The Robert Mondavi Winery is located in the city of Oakville, Ca. There is lodging available in the surrounding areas; Napa, Yountville and St. Helena.
12. Do you have transportation recommendations?
For car service you can contact Royal Coach, California Wine Tours, for taxi service Black Tie Taxi. 
Please note: if you don't prearrange a taxi it will take 30-45 minutes for them to arrive at the winery at the end of the night.
13. Miscellaneous
Smoking is prohibited throughout the concert venue except in designated areas.
If behavior of concert attendees adversely affects any other party's enjoyment of the show, or is determined to be unsafe, the attendees in question will be asked to leave.  The view and opinions expressed by artists do not necessarily represent the views and opinions of Robert Mondavi Winery.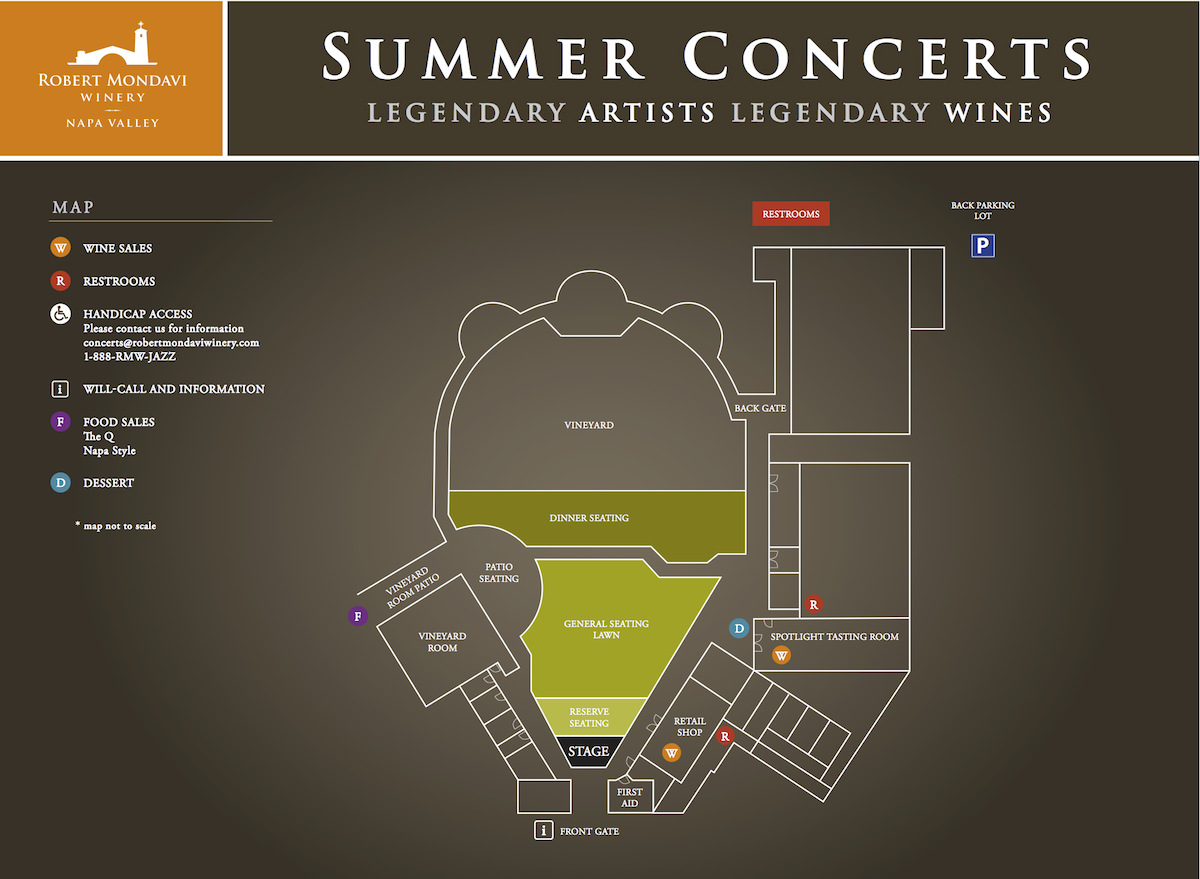 When & Where

Robert Mondavi Winery
7801 Saint Helena Highway
Oakville, CA 94562


Saturday, July 5, 2014 at 5:00 PM (PDT)
Add to my calendar