Description
Open to ALL networkers!


Topic: Closing! SuperClosing! And how to close without rejection.


"Do I really know how to get prospects to believe me and make a decision?"
For most distributors, the answer is: "No."
And that is deadly.
Our job is to get prospects to make a decision to use our products and services, and to join our opportunity.
Yet, if we can't explain or understand exactly how our prospects make a decision, what chance do we have? How can we do our job when we don't even understand how this works?
Can you answer these questions?
* Which part of the brain makes all of the decisions?

* Do you know how to talk directly to that part of the brain?

* How many seconds does it take for the prospect's brain to make a final decision?

* Why does the prospect's brain make automatic and final decisions - before you even mention your products and services?

* What word sequences will instantly turn off the "salesman alarm" in your prospect's brain?

* Why does the social proof connection to the survival program in our minds override every part of your presentation?

* Which two sentences will pre-close your prospect, before you even begin your presentation?

In this three-hour workshop, you will learn:
* How to close easily with no rejection.

* How to avoid the "think it over" objection.

* SuperClosing.

* How to close to the subconscious mind.

* Three-way closes.

* Closing before the close.

* Higher level closing.

* Setting the prospect's mind for success.

* And much, much more.

There are two types of distributors in the world:
1. Those that know exactly how to close their prospects, before the presentation ever begins, and
2. Those that suffer years of frustration, rejection, and embarrassment because they don't understand what is really going on when they give a presentation.
Make sure to bring your entire downline. They can't wait to learn the simple skills to make "closing" simple, easy, and fun. This is your chance to quickly jump to a full-time income.
Some things you should know:
Do I have to bring my printed ticket to the event?
Yes. Each ticket has a unique scan code.
What is the refund policy?
Since this is a live event, we refund tickets only if the event has to be cancelled. If you've purchased a ticket and find you can't attend, we encourage you to have a business associate use your ticket. It's OK if the name on the ticket doesn't match the attendee's name.
When can I buy tickets?
Tickets are available up until one hour before the event begins, or until the event sells out.
General Admission tickets are $25. Purchase your tickets before October 8th, and get 3 Big Al books free!
* Quick Start Guide for Network Marketing
* The Four Color Personalities For MLM
* Why You Need to Start Network Marketing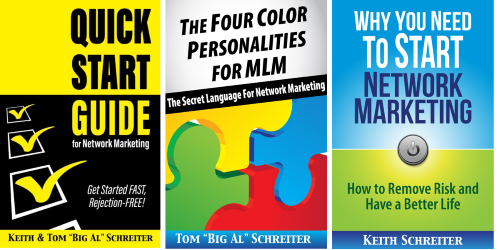 That's a $39 value!
Pick up your free books when you arrive at the workshop!
Seating is limited at this event. Don't wait. Be sure to get your tickets early for the free book offer!
Hope to see you there!
Tom "Big Al" Schreiter