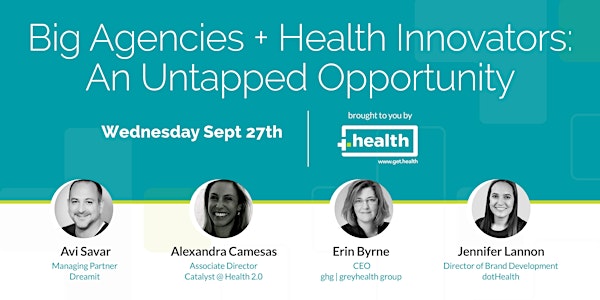 Big Agencies + Health Innovators: An Untapped Opportunity
When and where
Location
ghg | greyhealth group 200 5th Ave New York, NY 10010
Description
Join us in person, or virtually on Facebook Live!
We're bringing together agencies and startups - 2 important communities that don't collaborate enough, but have shared interests - to thoughtfully discuss how we can all work together to enable further collaboration that gets meaningful health products into the hands of the individuals that need them most.
The biggest brands in health and their marketing agencies
Brands are interested in more digital & innovative technologies that show better ROI than old-school advertising methods; ad agencies are trying to reinvent themselves as "digital" and "innovation" focused and be the ones to bring these new technologies to brands, as well as manage their implementation.
The innovation, startup, and digital health community
Startups and innovators are looking for the easiest and fastest way to get in front of and development successful partnerships with as many big brands (and budgets) as possible.
Panelists include:
Avi Savar, CEO and Managing Partner, Dreamit
Alexandra Camesas, Associate Director, Catalyst @ Health 2.0
Erin Byrne, CEO, ghg | greyhealth group
Jennifer Lannon, Director of Brand Development, dotHealth
Join us for an insightful conversation discussing:
What are the innovations that the marketing side of a health brand would source for a partnership?

What role do marketing agencies play in the decision to pursue, and the execution of, these partnerships?

How can big brands and agencies successfully "vet" early-stage technologies and young companies and mitigate risks of implementation?

Where can marketers and agencies go to find innovations that will be a fit for their goals, and viceversa?

What should innovators keep in mind as they pursue a relationship with a big brand, and viceversa?
Featuring real-world examples of successful partnerships between innovators and big health brands.
**Admission fees will be donated directly to the Texas Gulf Coast Region American Red Cross.**
Erin Byrne is the CEO of greyhealth group and has more than 25 years of integrated marketing experience spanning markets, disciplines and audiences. She started her marketing career in 1990 in consumer advertising, and migrated to digital marketing in 1992, adding a healthcare specialty in 2005. Since then she has become a sought-after counselor to C-suite executives looking to navigate integrating digital and social media in the highly regulated and rapidly changing healthcare environment. Her diverse experience combines social media, digital technology, corporate communications and integrated marketing with a specialty in driving patient and professional dialogue, improving this critical relationship, and ultimately driving desired actions to meet business needs while creating healthier outcomes.
Alexandra Camesas is the Associate Director of Catalyst @ Health 2.0. At Health 2.0, she leads a team that manages pilot programs and innovation challenges that connect technology startups with enterprise healthcare organizations. Alexandra consults on global innovation projects for a variety of clients including pharmaceutical companies, non-profit foundations and government entities. She is passionate about supporting the adoption of leading technologies within health systems, payors and pharma, and has first hand experience in facilitating sustainable commercial partnerships. In her previous role in the healthcare division of DigitasLBi, she managed personalized marketing strategy on behalf of Fortune 500 pharmaceutical companies. Alexandra has a Bachelor of Arts (B.A.) from Brown University with a concentration in Business, Entrepreneurship and Organizations.
Jennifer Lannon is the Director of Brand Development for dotHealth, the domain registry for the .health top-level domain, where she is responsible for the company's partnerships that will build .health into a focused, credible, and meaningful domainscape. A health-tech enthusiast, Jennifer previously ran the Health Innovation Hub/Life Science Accelerator for Springboard Enterprises, where she directly managed the addition of 31 women-led life science and health tech startups into the portfolio. Jennifer is very passionate about entrepreneurship, innovation in healthcare, and diversity in tech. She's excited to bring her health innovation mindset to the domain world and work with great partners to build the home for health online. In addition to her work with dotHealth, Jennifer serves as co-director of Health 2.0 Miami. Jennifer holds a Bachelor of Science in Cell Biology and Genetics from the University of Maryland.
Avi Savar is Managing Partner of Dreamit, a top global accelerator and early stage investment fund. Prior to joining Dreamit, Avi was Founder and Chief Strategy Officer of digital advertising agency Big Fuel. Founded in 2004, Big Fuel grew to become the largest pure-play social media agency globally -- with over 120 employees and clients that included Walmart, Budweiser, GM, Samsung, Ally Bank, Bridgestone, AFLAC, T-Mobile, Carnival Cruises and more. In June 2011, Avi led Big Fuel to a successful acquisition by French media giant Publicis Groupe, giving Big Fuel a global footprint and making it the most dominant social media agency worldwide. Additionally, Avi is an active investor and advisor to several media and technology companies, including: Domino, Promoboxx, Proclivity Media, CMP.LY, Hyphen Lab, DietBet, Wellcaster, Seedfeed,NailSnaps, Trap.it, Plyfe, Magnesis, Know Your Crew, among others.