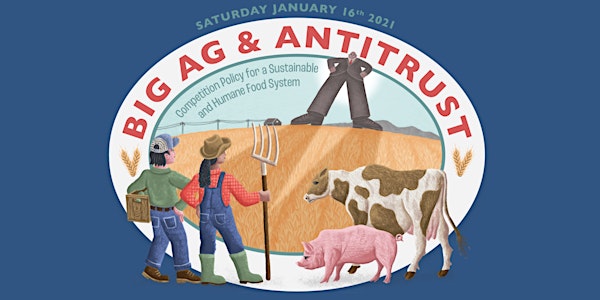 Big Ag & Antitrust: Competition Policy for the Food System
Register here to attend Big Ag & Antitrust: Competition Policy for a Sustainable and Humane Food System.
About this event
The Thurman Arnold Project at Yale (TAP@Yale) and the Law, Ethics & Animals Program (LEAP) at Yale Law School are delighted to invite paper submissions for "Big Ag & Antitrust: Competition Policy for a Sustainable and Humane Food System," a virtual conference on the role and power of antitrust and competition law and policy in shaping the American food system. The conference will be held on Saturday, January 16, 2021. To learn how to submit a paper or read more about the conference, click here: https://law.yale.edu/animals/events/big-ag-antitrust-conference
About the conference:
Since the mid-20th century, a handful of corporations have grown to dominate America's farm and food sectors. Today, the country's four largest pork producers, beef producers, soybean processors, and wet corn processors control over 70 percent of their respective markets. Four companies control 90 percent of the global grain trade. Agrochemical, seed, and many consumer product industries are likewise now controlled by just a few mega-sized firms. The implications of these corporations' consolidated market power -- and in turn their consolidated political power -- are profound for people, animals, the environment, and our democracy alike.
In recent years, a growing tide of scholars, lawmakers, and members of the public at large have expressed increasing concern that food- and agribusiness corporations have become too big and too powerful. Many critics have called for a revival of stricter antitrust enforcement, more assertive antitrust authorities, and a general rebalancing of economic power.
The aim of this conference is to explore the role of antitrust and competition policy in creating America's food system and its potential for improving it. We hope the conference will help spark future research, heightened enforcement attention, and new ideas for policy reforms toward achieving more competitive, sustainable, and humane agriculture markets. The conference strives to serve as a focal point for academics, enforcers, policymakers, practitioners, journalists, and beyond to convene and share ideas for how to jointly address concentration in agriculture.
The conference will discuss what kinds of reforms are needed in antitrust enforcement and regulation to address problems in the food system and how these changes should be designed. It will also consider the relationship between competition policy and broader concerns associated with industrial agriculture—including climate change, animal welfare, sustainability, public health, and inequalities facing workers, farmers, and rural communities. In addition, the conference will consider policy recommendations, including changes in the interpretation of antitrust laws and doctrines, new legislation, regulations, enforcement practices, and the institutional organization of agencies.
The authors of selected papers will be invited to present their work at a virtual conference on Saturday, January 16, 2021.