Bierbrauen - Kurs Spezial beim Beerstarter

Saturday, May 25, 2019 from 10:00 AM to 5:00 PM (CEST)
Event Details
Gemeinsam Bier brauen
Diesen Brau-Workshop von Beerstarter sollten Sie sich nicht entgehen lassen. Braukurs inklusive 24 Flaschen Bier nach Abfüllung!

Du liebst Bier und willst endlich mal hinter die Kulissen der Herstellung des goldenen Gerstensaftes schauen, Maischepfanne, Abläutern, Alpha-Amylase sind Fremdwörter für dich? Dann werde jetzt selbst zum Braumeister und stelle mit professioneller Hilfe dein eigenes Bier her.

In Bruck/Leitha bei Wien dreht sich bei diesem Workshop alles rund ums Thema Bier. Vom Experten erfährst du nicht nur allerhand Theoretisches und Geschichtliches über dein Lieblingsgetränk, du stellst es auch selbst her.
In der Gruppe entscheidet ihr, ob "Helles" oder "Dunkles" gebraut wird und verfeinern es zusätzlich (Sonderwünsche bei geschlossenen Gruppen ab 5 Personen). Bei jedem Produktionsschritt bist du hautnah dabei. Währenddessen gibt es natürlich auch die ein oder andere Gelegenheit, verschiedenste Biere zu verkosten - jedes ein Unikat im Geschmack. Bei der zünftigen Brettljause kannst du mit anderen Bierliebhabern fachsimpeln und dich austauschen. Dein selbst gebrautes Bier ist nach etwa 4 Wochen fertig und bereit zum Abfüllen. Du erhälst 24 Flaschen deines eigens hergestellten Bieres - genug um mit Freunden auf dein Werk anzustoßen. Prost!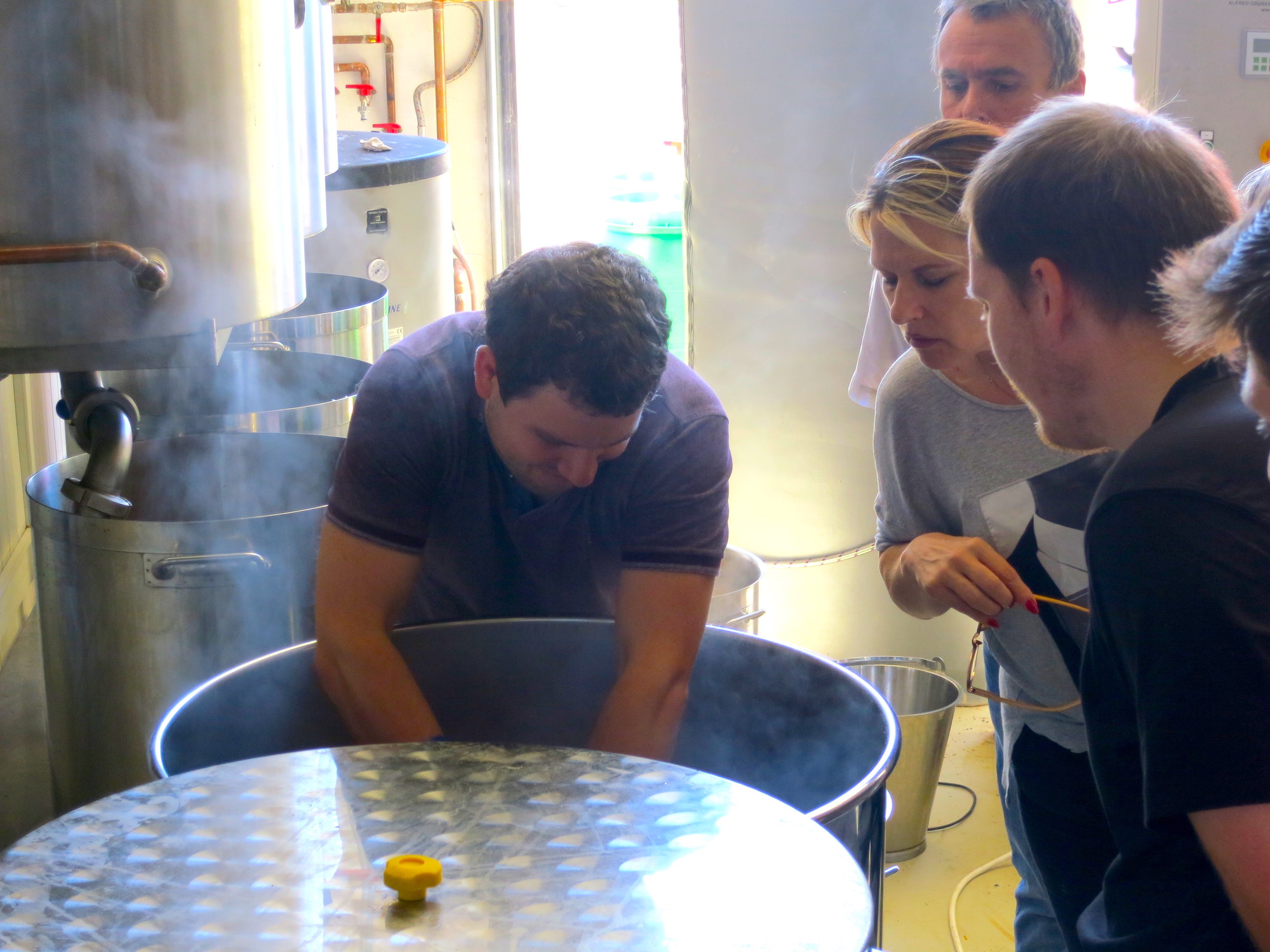 Leistungen:

•    Braukursca. 5-7 Std.
•    Brettljause
•    Einweisung in praktische Arbeiten
•    Theorie und Wissenswertes zum Thema Bier
•    Teilnahme an alles Brauprozessen
•    Verkostung verschiedenster Biere (jedes ein Unikat)
•    24 Flaschen des selbstgebrauten Bieres
•    Zwischendurch: Freibier

 
FAQs
Wie kann ich das Event erreichen?
Am besten mit dem Auto.
Wie kann ich den Veranstalter kontaktieren, wenn ich Fragen habe?
Per E-Mail an office@beerstarter.beer Betreff Brauseminar + Datum
 
Ist meine Registrierungsgebühr/mein Ticket übertragbar?
Ja, aber bitte rechtzeitig bescheid geben wer tatsächlich kommt.
 
Rückerstattung bis 7 Tage vor dem Event möglich.



Über Beerstarter
Ein neuer Stern am Craftbeer-Himmel - Biere und Braukurse für Bier-Enthusiasten.
Zum Beerstarter

 
 
Direkt schmeckt's am besten - AbHof
AbHof verbindet regionale Produzenten und eine nachhaltig denkende Community – mit der umfangreichsten Datenbank an Direktvermarktern in Österreich.
Entdecke mit der AbHof-App mehr Produzenten und Direktvermarkter in Deiner Nähe.



When & Where

Alter Hainburger Weg 2a

2460 Bruck an der Leitha
Austria


Saturday, May 25, 2019 from 10:00 AM to 5:00 PM (CEST)
Add to my calendar
Organizer
Ein neuer Stern am Craftbeer-Himmel - Biere und Braukurse für Bier-Enthusiasten.