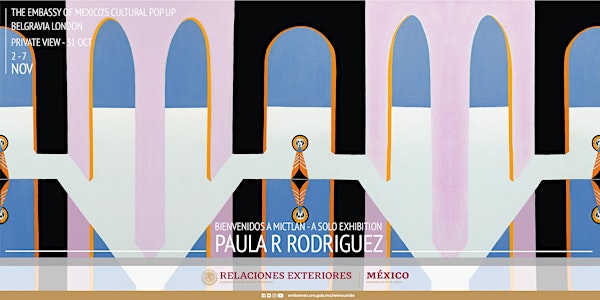 Multiple dates
BIENVENIDOS AL MICTLAN
The Mexican Embassy in the Uk invites you to immerse yourself in a colourful solo show celebrating and exploring the Mexican Day of the dead
By 31st of October "Private View"
When and where
Date and time
Mon, 31 Oct 2022 18:00 - Sat, 12 Nov 2022 20:00 GMT
Location
8 Halkin St 8 Halkin Street London SW1X 7DW United Kingdom
About this event
**Due to popular demand the exhibition is being extended until the 12 of November.**
The Mexican festival dedicated to the Day of the Dead (November 1st and 2nd), is a clear example of the cultural syncretism between two worlds: the European and Mesoamerican. It is the product of the religious and ideological encounter that gave rise to the rich traditions that are the hallmark of this festivity. This exhibition is an artistic response and aesthetic exploration of Mexico's rituals of death and remembrance.
Paula R Rodriguez (1989, Mexico City) is a Mexican artist based in London, whose work combines creative explorations of her native Mexico with a socially engaged practice. Intersections between memory and place, as sites of personal and collective belonging, are central subjects of Rodriguez's work.
The exhibition celebrates the rich cultural significance of the Mexican "Day of the Dead", exploring different aspects of this festivity, from Aztec mythology to the places and traditions that have become iconic during the Day of the Dead. The exhibition also includes installations and a program of activities inviting audiences to learn and engage with Mexican culture.
The magical journey to the realm of Mictlán, the Aztec underworld Land of the Dead, begins at the Mexican Residence (48 Belgrave Square), where your senses will be delighted by the immersive, monumental Day of the Dead Altar, with a blend of auditory and visual stimulations that will pay tribute to deceased loved ones.
31st of October "Private View"
18:00 - 21:00
3rd - 6th of November "Exhibition open to the public"
12:00 - 19:00
9th - 12th of November "Exhibition open to the public"
14:00 - 19:30