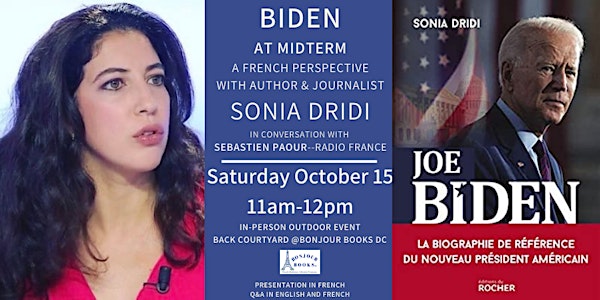 Biden at Midterm: Discussion with French Journalist and Author Sonia Dridi
Biden at Midterm: A French perspective with French Journalist and Author Sonia Dridi
When and where
Location
Bonjour Books DC 3758 Howard Avenue Kensington, MD 20895
About this event
DESCRIPTION
Sonia Dridi is a French journalist and foreign correspondent based in Washington DC since 2015. She works for various French media outlets including France 24, BFM TV and RTBF.
Just prior to the 2020 Presidential election she published the first French-language biography of then candidate Biden: "Joe Biden --le Pari de l'Amérique Anti-Trump" [translation: America's Bet Against Trump.]  Two years into the Biden Presidency, as both Trump and Biden put their full energy into influencing the upcoming midterm elections, it feels like déjà-vu.
A few months ago, Biden's unpopularity and high inflation left the Democrats without much hope but the fight for abortion rights and the recent legislative gains have improved their chances. How do Democrats see Biden's presidency, at midterm? What to expect for the midterm congressional elections? Are we heading toward a Biden-Trump dual for the 2024 Presidential election?
Come hear unique insights into Joe Biden that Sonia Dridi gained through in-depth research for the book, including interviews with Biden's inner circle, as well as her take on the man and politician now.
Sébastien Paour of Radio France will be conducting the interview and both journalists will provide insights on current events from a French perspective.
The interview will be in French, and audience participation is welcome in both French and English.
Books will be available for purchase and signing by the author at the event.
This event will take place outdoors in the courtyard behind the bookstore.
This event is FREE and open to the public. RSVP via Eventbrite is encouraged.
About Sonia Dridi
BIO ENGLISH
Sonia Dridi is a French journalist and foreign correspondent based in Washington DC since 2015. She works for various French media including France 24, BFM TV, RTBF and Madame Le Figaro. She wrote the first biography in French of Joe Biden, published in September 2020 "Joe Biden, le pari de l'Amérique anti-trump". She has covered the White House, State Department, Congress and events throughout the country. She has also worked on numerous documentaries as a producer and journalist such as "Bachar Al Assad : Master of Chaos" (Antoine Vitkine),"Putin, Master of the game" (Antoine Viktine), "MBS, Prince of Arabia" (Antoine Vitkine),"Irak : destruction d'une nation" (Jean-Pierre Canet).
Previously, she was based in Cairo for 5 years and covered the Egyptian revolution and its aftermath. In Egypt, she made two documentaries, award nominated in France "Sexual harassment, an Egyptian disease" and "Tahrir: one year after" (2012).
BIO FRENCH
Sonia Dridi est l'auteure de la biographie et du portrait politique de Joe Biden "Joe Biden, le pari de l'Amérique anti-Trump". Journaliste indépendante, elle est correspondante pour plusieurs médias français à Washington DC depuis 2015 dont France 24, BFM TV et la RTBF. Elle a participé à la réalisation de plusieurs documentaires dont "Irak, destruction d'une nation" (Jean-Pierre Canet), "Bachar, moi ou le chaos" (Antoine Vitkine), "La vengeance de Poutine" (Antoine Vitkine) et « MBS, Prince d'Arabie » (Antoine Vitkine). Avant de s'installer aux Etats-Unis, Sonia Dridi était la correspondante en Egypte de France 24 de 2011 à 2015. Elle a réalisé les documentaires « Harcèlement sexuel, un mal égyptien » (France 24) et "Tahrir, un an après" (France O).
About Sébastien Paour
BIO ENGLISH
Sébastien Paour is Radio France's correspondent in the United States, based in Washington. He travels regularly in the country for his reports.
Before being appointed to the American capital, he presented the 7 p.m. news for France Inter for 7 years. A Senior Correspondent for 15 years at France Info, he covered many events around the world: the war in Iraq, Afghanistan, the American elections of 2008 and 2012, Hurricane Katrina.
BIO FRENCH
Sébastien Paour est le correspondant de Radio France aux Etats-Unis, basé à Washington. Il voyage régulièrement dans le pays pour ses reportages.
Avant d'être nommé dans la capitale américaine, il a présenté le journal de 19h de France Inter pendant 7 ans. Grand reporter pendant 15 ans à France Info, il a couvert de nombreux évènements à travers le monde : la guerre en Irak, l'Afghanistan, les élections américaines de 2008 et 2012, l'Ouragan Katrina.
COVID POLICY
For outdoor events in our back courtyard, social distancing is encouraged. Masks are optional.
Masks are encouraged inside our store.