Description
4.27 Saturday (Funk / Rock / Jazz)
Nectar & The PBJ Present:
BIDDADAT

(single release)
BOOBOOLALA (album release)
Decent At Best
Motus
Nectar Lounge
412 N 36th St
BIDDADAT
Three happy-go-lucky boys, poking around on controllers, picking on strings, banging on drums: sounds like a little Biddadat. They are Seattle's essence of neo-funk, combining the nostalgia of funk and blues with contemporary rock and electronica. If their silly attitudes don't make you comfortable enough to shake it on that floor, the tunes will certainly fuel those moves.
BOOBOOLALA
BoobooLala is a band that goes down well with everything. In the Summertime, their music feels like Summer. Yet in the greyness of a Northwest winter, Booboolala serves like a full spectrum light, treating the doldrums of early January, with a mix of pop infused party funk, back pack rap, and new RnB anthems. The band emits its own three word mantra with every note.
"Everybody Love Everybody"
It's a rare group of musicians that are both a sum that is better than their parts, and such wonderful parts indeed. The band possesses a Bruno Mars like ability to take so many classic ingredients and bake a cake so fresh it always tastes like today. As they take their music fresh out the oven, it looks easy. It isn't easy. But it is easy to love Booboolala.
BoobooLala is a Tacoma band, by the way of Port Orchard, WA. They are young folks and old friends. They hug new fans, they hold old fans. It's a nice family. Come up to them before or after the show, and ask them the great story of how they got their phonetic name. It's a hard name to forget.
Vocals / Kevin Dailly
Vocals / Madisen Dailly
Guitar / Jordan Neal
Bass / Byron Thomas
Drums / Taylor Cryder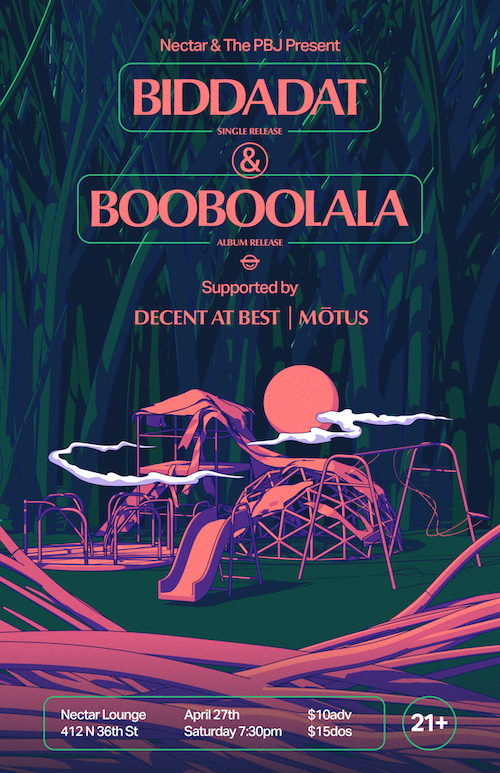 Performers
Date and Time
Location
Refund Policy