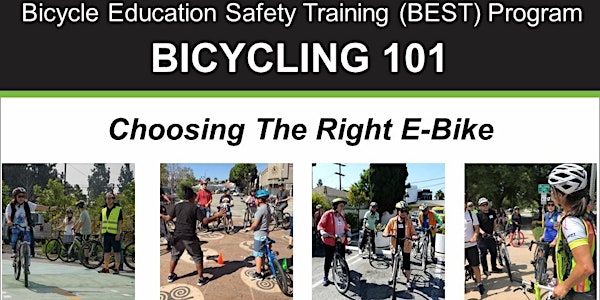 Bicycling 101: Choosing The Right E-Bike - Online Video Class
How to choose the right electric bike that fits your physical needs and riding goals.
About this event
With so many options out there, it can feel overwhelming to choose an electric bike to suit your needs. The BEST Bicycling 101: Choosing the Right E-Bike online video class, presented by Metro and ActiveSGV, is a 1-hour off-bike session (via Zoom) to review how to ensure you end up on the right type of e-bike for your riding needs. Come ready with questions and you will leave more confident in knowing which electric bike is right for you.
Participants who complete a class feedback survey will be mailed a FREE pre-loaded single trip TAP card and additional Metro-branded goodies (shipping limited to addresses in LA County) by the end of 2022.
After you register, in the days leading up to the event, we will send you information on how to join the class online.
Class size is limited and subject to cancellation if registration is low. Pre-registration is required to save your spot, receive the Zoom information, and ensure we move forward with the class. Register now to guarantee your spot!
Check out these other class options:
Limited In-Person Classes
Bike 1: Back to Basics - August 20
Who Should Sign-Up:
Anyone who knows how to ride a bike and is interested in how to choose an electric bike should sign up today!
What You'll Learn:
Choosing The Right E-Bike: E-Bike Types / Bike Fit / Riding Needs
Bike Services / Online Events Offered by Metro
Metro's Bicycle Education Safety Training (BEST) Program currently offers bike classes at 4 different levels—Bicycling 101 and Bike 1, 2, & 3. The Bicycling 101 off-bike presentation is offered to organizations, businesses, and public agencies to provide a brief overview of bike basics. After this class, participants are encouraged to seek out additional BEST classes with on-bike instruction when they become available.
If you are interested in taking classes at the next level or joining a community bike ride, check out the full event calendar. For more info on how to ride a bike in LA County, visit metro.net/gobike.
Active SGV provides community events, family-friendly bike rides, open streets, transit improvements, green infrastructure, and advocacy for a more sustainable, equitable and livable San Gabriel Valley!