Description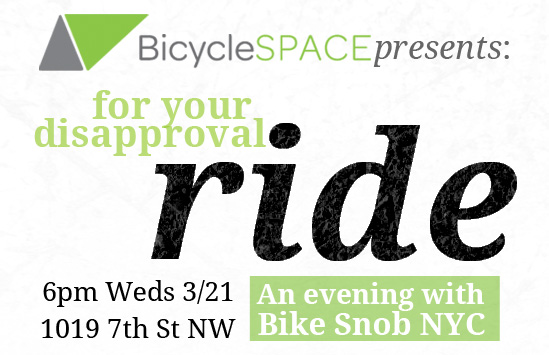 Rub wheels with internet royalty. Give cycling's most notorious blogger a piece of your mind. BikeSnobNYC begins his nationwide book tour at BicycleSPACE.
Join us for an evening social ride through the heart of DC with special guest, Eben Weiss. Let's see if we can make him bristle and earn his "seal of disapproval". Are you smug enough?
This party on wheels should not be missed--it promises to be at least 20% more laterally stiff and vertically compliant than anything else you can do on a Wednesday night. Participants who can garner the most disapproval will win prizes. Come dressed up as any of the types of cyclist that Bike Snob loves to skewer. Tridork, Retro-Grouch, Fred, Lone-Wolf? Extra points for a Mario Cippolini skin suit.
Be sure to find us at our new location on 7th Street by the Convention Center-- Mount Vernon Square's shoulder hair?! Lend a disembodied hand to your friends and pass on the info.
Organizer of BicycleSPACE presents: For Your Disapproval Ride- An Evening with BikeSnobNYC
The full-service bike shop of choice for Washington Area bicyclists, BicycleSPACE also delights in creating places, spaces and occasions to bring bicyclists together for group rides and social and educational events. In addition to the events featured here, we hold shop rides and classes 52 weeks a year. Subscribe to our newsletter to stay in touch.