Description
Join us for all-day family fun in historic downtown Kennewick! The inaugural Tour of Kennewick is a local bicycle ride for the entire family. With routes including 3.2, 20, and 42 miles. Enjoy cooler end-of-summer weather, and the best way to see Kennewick...by bike.

The 5k (3.2 mile) Historic Downtown Kennewick family tour is a walk, run, ride, or roll for all ages and any kind of person-powered transportation. Get the historic loop map and have fun finding hidden historic gems, and visit the history of downtown Kennewick. Start in Keewaydin park and loop through downtown.
The 20-mile bicycle ride follows the Sacajawea Heritage Trail route from Keewaydin Park over the Cable Bridge (Ed Hendler Bridge), and along the trail on the Pasco side of the Columbia River with great morning views of the Kennewick Columbia Park. Cross the Yakima River Delta and return on the trail through Columbia Park. The Sacajawea Heritage Trail is the hub and hallmark for bike riders, walkers, hikers, and the entire community.
The 42-mile Tour of Kennewick begins with the Sacajawea Heritage Trail riders, but continues onto Steptoe from the trail along Highway 240. Follow Steptoe to the new Desert Hills Middle School along Clodfelter and continue along Clodfelter to Locust Grove and under I82 connecting to Highway 397. Turn down 9 Canyon Road in Finley and turn onto Bowles following onto Oak Street and then 27th and return on Washington Ave. From the river valley to the hills above Kennewick enjoy the diversity and beauty of this Tri-Cities largest community.
Family-friendly Historic Downtown 5k loop is free, but donations are welcome. Proceeds support Wheelhouse Community Bike Shop and East Benton County Historical Society Museum.
Local Kiwanis are offering a pancake breakfast in the morning at 7 am. You may pre-perchase the breakfast, and/or lunch with registration.
Take advantage of early-bird registration discounted tickets and jersey pricing until August 6th. Jerseys sold after August 6th are not guranteed for the ride, but will still receive Best of Summerfest/Tour of Kennewick bike jersey.
Bicycle jersey is made in the USA and commemorates the first Tour of Kennewick/Best of Summerfest.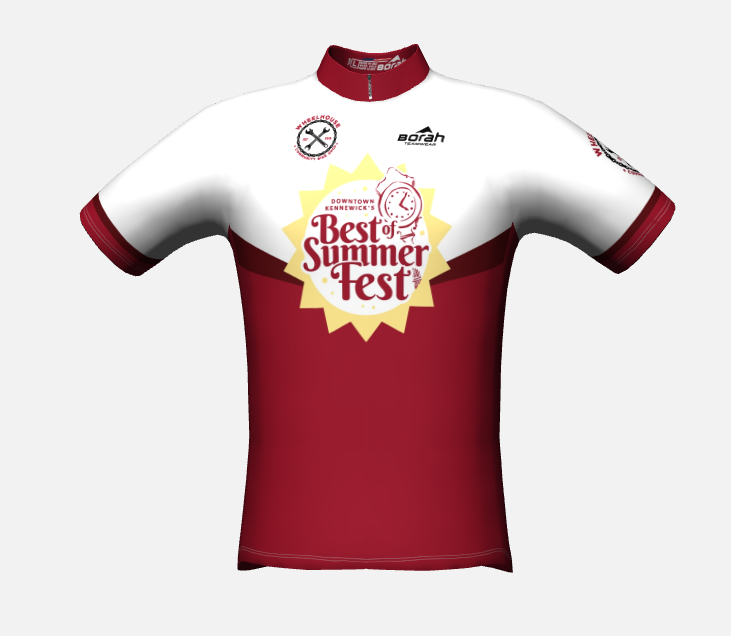 Organizers will follow-up with request for jersey size and style needs. Contact Wheelhouse Community Bike Shop at 509-820-3047 with any questions on Tour of Kennewick Ride or jerseys.
Route maps and infomraiton coming soon!