Event Details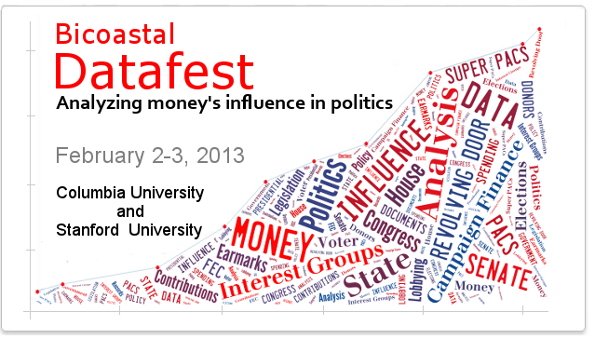 Big Money, Big Data and You:

A bicoastal Datafest to track money's political influence from sea to shining sea.  
What will 2012's political spending spree mean for policy in 2013 and beyond? Help us find insights and answers in data.

Meet journalists, scientists, engineers, data experts and developers for a cross-disciplinary and bicoastal weekend of brainstorming, data-diving, story-telling and civic action, not to mention prizes, food and fellowship.

Thanks to the generous support of the MacArthur Foundation, we invite you to  join our data contest on February 2 and 3:


Do you write code or work with data? Help us mine data for stories and visualizations that will help explain how money affects the issues that Congress and state legislatures will be taking up this year.
Are you an expert on money & politics issues? Contribute your knowledge and insights to our projects and find some assistance with yours.
Showcase your skills and knowledge and compete to win prizes.
Help make awesome code that can be shared, distributed, forked, and maybe even run.
Help expand the use of data and computational thinking in journalism, social sciences and nonprofit organizations.

 

This event is sponsored by the bicoastal Brown Institute for Media Innovation and by the Columbia Journalism School and the Stanford University Graduate Program in Journalism in partnership with the Sunlight Foundation and Teresa Bouza, deputy Washington bureau chief of the global news agency EFE.  Google, Maplight, Columbia University's Institute for Data Sciences and Engineering, the Center for Investigative Reporting and Code the Change are also supporting the event. It will be held on the campuses of Columbia University and Stanford University.

We'll bring the food, prizes and some ideas. You bring the brainpower and the enthusiasm.
Organizer
ComputationalReporting.com