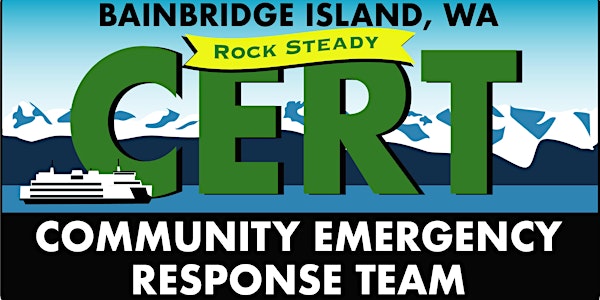 BICERT Basic Training Sept 9, 16, 23, 30, Oct 7, 14, 20
BICERT Basic Training
When and where
Location
Bainbridge Island Fire Department Station 23 12985 Phelps Road Northeast Bainbridge Island, WA 98110
About this event
Class dates are on Monday evenings beginning September 9th with the final drill on Sunday Oct 20th:
September 9th, 16th, 23rd, 30th 18:00 - 21:00
October 7th, 14th 18:00 - 21:00
October 20th Final drill 08:00 - 15:00
Bainbridge Island's CERT Basic class is a 24 hour all-hazard training, run by the City of Bainbridge Island and Bainbridge Prepares along with the Bainbridge Island Fire Department. It is designed to train and prepare participants to take care of themselves, their families, neighbors and their community, should an emergency situation occur.
This program educates volunteers about disaster preparedness for the hazards that may impact Bainbridge Island, Kitsap County and our surrounding area. This course will introduce basic disaster response skills, such as fire safety, light search and rescue, team organization, and disaster medical operations.
CERT Basic training is free and open to all Bainbridge Island residents over the age of 18.
To complete the class and be eligible to become an active member of BICERT, participants must attend all dates of the course. If you are unable to make one of these dates, please contact us and we see what we can do!
If you have any questions please email info.bicert@gmail.com