Event Information
Location
Sakarya Caddesi No :156 Balcova
İEÜ Güzel Sanatlar Fakültesi (D Blok)
Izmir, 35330
Turkey
Description

BIC PITCHING WORKSHOP FOR STARTUPS
How it works:
Register to the event, get prepared for a small verbal presentation and keep your questions in mind. You have 10 minutes to pitch your idea/business and afterwards you will receive a feedback from our team (10 minutes also).
BIC Angel Investments team will contact you on your mobile phone to tell you which slot you were assigned after that you registered.
How much is it?
It's free! Thanks to this event we will have the chance to get to know each other and will explore cooperation possibilities.
Is that all?
After the pitching workshop, at 15:30, a cocktail is organized to meet all the entrepreneurs & network with the BIC Team while enjoying fresh drinks. Ask your questions, share your ideas, talk about your experiences, the entrepreneurs and the BIC Angel Investments team will be happy to meet you!
Who is BIC Angel Investments?
BIC Angel Investments is an investment company concentrating on start up projects related to internet, such as e-commerce, mobile applications, social networks, augmented reality or cloud based solutions. We support startups with angel investment up to $ 200 K, but also in areas like strategy, back office services and technology. In strategy area we give mentoring and consultancy related to market analysis and business plan development. In fact we meet with our startups on a weekly basis both to review their performance and support them with their challenges. In terms of back office services we support startups with accounting in international standards, HR and legal services whenever needed. And in technology domain thanks to our sister company Nexum, we can support start ups in a very wide range of areas such as mobile app development, e-commerce platform development, architecture of the infrastructure, digital marketing, user experience and design. We believe startups not only need money but also experience and high quality support in order to fly. And that is how we constructed our structure. For further information please check following: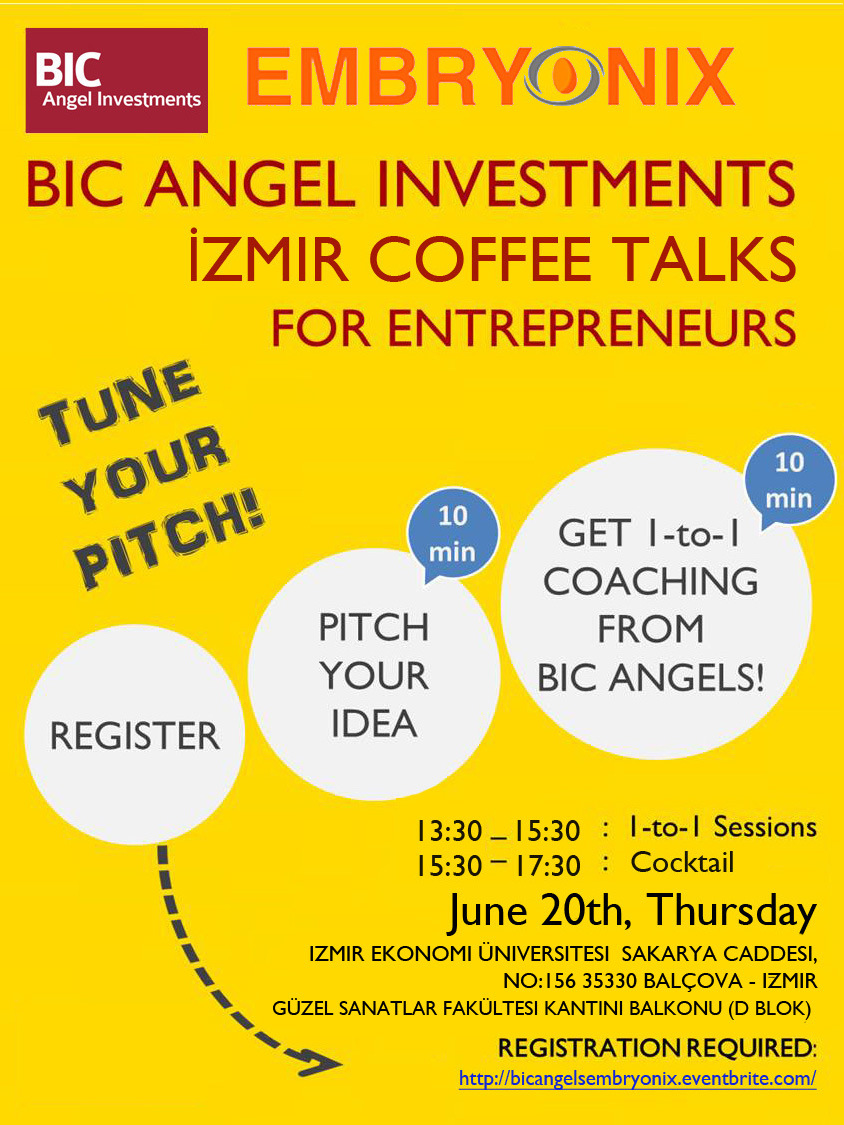 Date and time
Location
Sakarya Caddesi No :156 Balcova
İEÜ Güzel Sanatlar Fakültesi (D Blok)
Izmir, 35330
Turkey