Biblical Counselor Training

Sunday, October 22, 2017 from 10:00 AM to 5:00 PM (CDT)
Event Details
Take Advantage of an Opportunity to become a Biblically Trained Counselor!
Do you ever wonder how you can be of benefit to your church and God's people?
Have you ever felt like you didn't know what to say in certain situations?
Does the idea of ministering to people frighten you because you don't think you can handle it?
If you can answer yes to any of those questions, then this training is for you!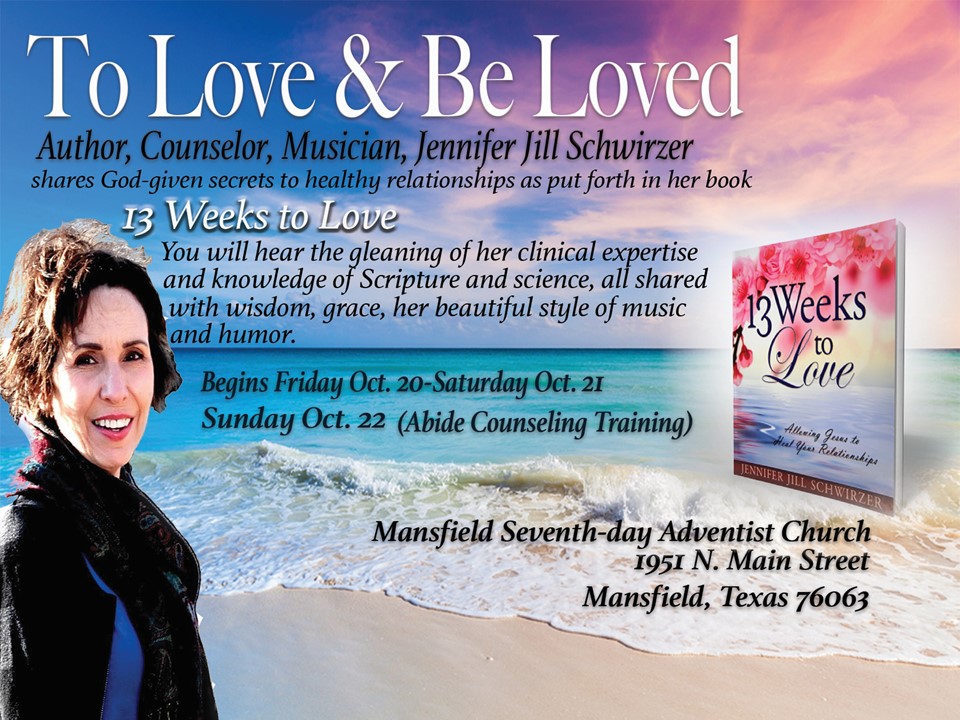 If you want to know how to effectively communicate with your loved ones; how to react when someone says something out of the ordinary to you; how to know when someone needs professional help; or how to know when you are feeling stressed and overwhelmed, then this workshop is for you.
"To Love and Be Loved" is a comprehensive one-day study presented by nationally-licensed, counselor Jennifer Jill Schwirzer. Jennifer is the creator of the Seven deadly Psychological Sins Seminar, which has received rave reviews by all who have attended.
Conference materials can be pre-purchased in advance at the ABC Book Store or Amazon.com. Other materials available at the seminar. 
Materials will also be made available at the seminar. 
Register today for this life-changing seminar. 

***Workshop Schedule for Sunday, October 22, is 10 am to 5 pm. Lunch will be served.

_

When & Where

Mansfield SDA Church
1951 Main Street
Mansfield, TX 76063


Sunday, October 22, 2017 from 10:00 AM to 5:00 PM (CDT)
Add to my calendar
Organizer
Each One Reach One and Every Member a Minister
MANSFIELD SEVENTH-DAY ADVENTIST CHURCH is a church devoted to reflecting our Lord and Savior Jesus Christ. We believe that worship is something that can be expressed in everything we do, whether that be nourishing our bodies with food, chatting with friends, playing music, or enjoying nature. Our philosophy is deeply rooted in the Holy Scriptures, life's only guidebook. Whatever your age, gender or race, there is a special place for you at our Church. We offer members a chance to become part of something greater, to grow their love for God and for one another in our beautiful community. Get in touch today or swing by for a visit.

OUR VISION
A caring, diverse, united church of believers in Christ; actively ministering and sharing the everlasting gospel, and a message of health and well-being to our church, our community, and the world. 

OUR MISSION
Joyfully making disciples of Christ by purposefully forming, equipping and nurturing Christ-centered relationships within our church and community and the world. 

OUR CORE VALUES
Bible-Based, Prayer Driven, Holy Spirit Guided, Inspiring and Transforming Worship, Practicing Forgiveness, Fostering Healthy Living, Committed Servant-hood Leadership, Evangelism and Discipleship Focused, Love Centered, Unity Prioritized, Demonstrates Transparency, Community Oriented.