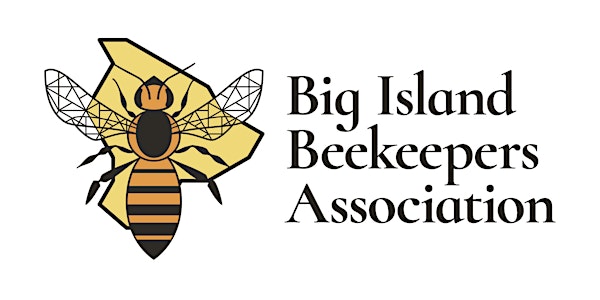 BIBA's September Meeting
Big Island Beekeepers Association September Monthly Meeting
About this event
About Us
The Big Island Beekeepers Association's (BIBA) mission is ​to assist fellow beekeepers; to educate beekeepers and the public in matters related to honey bees and beekeeping; to cooperate in marketing honey bee products; to provide community service related to bee issues; to promote beekeeping by creating a positive image of honey bees, beekeeping and bee products.
Visit us at https://www.bigislandbeekeepers.com/
Follow us on Facebook @BigIslandBeekeepers
Featured Topic
This month BIBA will be hosting Dr. Frank Rinkevich, a Research Entomologist at the USDA-ARS Honey Bee Breeding, Genetics, and Physiology Lab in Baton Rouge, LA. He will be talking about his research on Varroa Mite resistance and much more! Join us for another hybrid meeting!
Speaker Bio
Dr. Frank D. Rinkevich is a Research Entomologist at the USDA-ARS Honey Bee Breeding, Genetics, and Physiology Laboratory in Baton Rouge LA. Frank has extensive training in insect toxicology, biochemistry, molecular biology, and genetics. The goal of Dr. Frank's research is to provide a basic understanding of pesticide toxicology that is relevant to field conditions in the commercial beekeeping industry. Current research interests in Dr. Rinkevich's lab include evaluating the effects of pesticide exposure on colony survivorship in commercial beekeeping operations, assessing the capacity and dynamics of metabolic detoxification of insecticides, understanding the genetic, behavioral, and social factors that affect insecticide sensitivity, determining the breadth, depth, and mechanisms of amitraz resistance in Varroa, establishing the effects of fungicides on colony health, and evaluating the performance of honey bee stocks selected for low Varroa populations in commercial beekeeping conditions.
Our monthly meeting will take place both online via Zoom and in person at the Kamana Senior Center in Hilo (127 Kamana Dr., Hilo HI 96720). Doors and meeting link open/go live at 6PM Hawaii time, with presentation to begin at 6:30PM.
We hope you can join us this month! Please come with questions!
Mahalo and hope to see you then!