Black History Month With The Gantt - Key leaders discuss changes over 200 years, how far we have come, and their vision for the future.
About this Event
The past year has ushered in a heightened awareness of racial disparities most noticeably in the country's political fabric and only intensified by a global pandemic. To create a point of reflection, this Unmasked conversation welcomes the voices of thought leaders in the Black community to compare and contrast our cultural journey.
Scholars, artists, and activists alike address questions that acknowledge our history in efforts to welcome a desired future. How has our perception and position in society shaped our culture? How have the disparities influenced our expression of and identification with being Black? What are some notable patterns in our history? The conversation serves to honor black history with both reverence and analysis.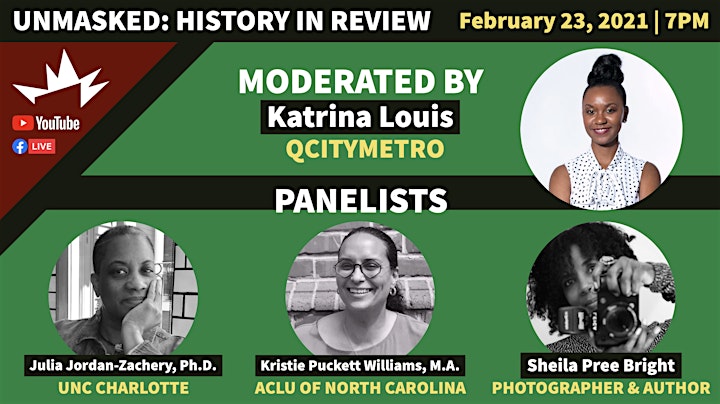 MODERATOR
Katrina Louis covers business for QCityMetro.com, one of the nation's first digital-only news organizations founded to serve a local, Black audience. Katrina joined QCity Metro in 2018 to manage the editorial newsroom and its growing team of reporters and freelancers. In 2021, Katrina moved into her current role to dedicate more efforts toward amplifying Charlotte's Black business ecosystem.
PANELISTS
Julia Jordan-Zachery, Ph.D. is a professor and chair of the Africana Studies Department at University of North Carolina Charlotte. Her interdisciplinary research focuses on African American women and public policy. She is also the author of the award winning book "Black women, cultural images and social policy" (2009 Routledge) and "Shadow Bodies: Black Women, Ideology, Representation, and Politics" (Rutgers University Press, 2017) and a number of articles and edited volumes including "Black Girl Magic Beyond the Hashtag" (Arizona University Press, 2019). Dr. Jordan-Zachery was awarded the Accinno Teaching Award, Providence College (2015-2016). Dr. Jordan-Zachery serves as the President of the Association for Ethnic Studies.
Kristie Puckett Williams, M.A. is the Statewide Campaign for Smart Justice Manager for the ACLU of North Carolina and is a working scholar in Mass Incarceration with a focus on the treatment of women including pregnant women in carceral facilities. Kristie holds an M.A. in Human Services Counseling: Addiction and Recovery Counseling. Having survived domestic violence, drug addiction and long term incarceration via community corrections, she is now an advocate and activist, fighting for the rights of all marginalized and disenfranchised people. Recently, Kristie was appointed by NC's Governor to serve as the Chair of the Women in Incarceration Workgroup for the State Reentry Council Collaborative. Also, Kristie is currently traveling across the state of North Carolina with the Attorney General and his staff to conduct roundtables to talk about pretrial detention practices in the state.
Sheila Pree Bright is an internationally acclaimed Fine Art photographer known for her photographic series #1960Now, Young Americans, Plastic Bodies, and Suburbia. Bright is theauthor of Black Lives Matter Protest published by Chronicle Books and, #1960Now: Photographs of Civil Rights Activists which exhibited here at the Gantt in 2016. Also, she is the recipient of several nominations and awards; Recently, she has been awarded the commission for Picturing the South by the High Museum of Art. Please welcome back to the Gantt, Sheila Pree Bright.
YOU MAY ALSO BE INTERESTED IN…
CLICK HERE to see all of our Black History Month With The Gantt programs.