Description
BHJacksonManagement, LLC presents the Urban VS Editorial POWER SHOOT.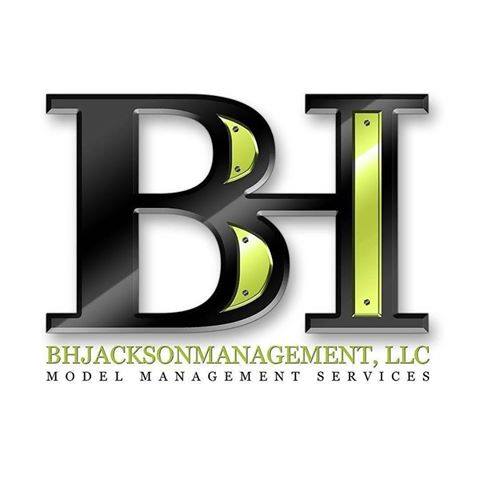 BHJacksonManagement, LLC is running it back. July 22nd from 4-9 PM we will be networking and portfolio building yet again at STUDIOPLEXX47. We will have some of the most amazing models (MALE AND FEMALE), designers, photographers and vendors under one roof.
**THE RUN DOWN** This is how it will work, all the designers and photographers will show up to the event slightly before 4pm to set up. We will stagger the time frames for the models to ensure there is equal opportunity for pics as well as it cuts down on the chaos of having so many people in the space at once.
Models can register for a 1 hr timeslot. During that time slot, they are able to visit as many designers and photographers that they can. Once that 1 hr time slot is over they will be asked to leave
The time slots are as follows:
4:00-5:00 PM
5:00-6:00 PM
6:00-7:00 PM
7:00-8:00 PM
8:00-9:00 PM
**MODELS.....COME HAIR AND MAKEUP READY .....PLEASE understand that once your hour slot is over you will be asked to leave so that ALL models get their fair chance to shoot**
Although you are to come hair and makeup ready HJBeauty, LLC will be set up at the powershoot for touchups, eyebrows, lashes etc. (These services are not FREE, please bring cash)
**PHOTOGRAPHERS...PLEASE rememeber to bring your own lights to ensure your photos represent the best picture quality, also remember to share your time with all the models, please do not spend any more than 8-10 frames per model per outfit...don't overload on one model or designer. The models and designers are expecting photos of them/their outfits please be ready to produce a link no later than 5-7 business days with photos from the powershoot available.
**DESIGNERS....PLEASE rememeber you are only allowed to bring (one) + 1 with you to assit you with getting your designs on the models, all others are required to register or they will not be allowed entry.
**VENDORS....PLEASE rememeber to bring your own table as we do not have extra tables for you to set up with at the studio. You are the only person allowed at your vendor table. If you need an assitant they are required to purchase a media/guest pass.
Please keep in mind this is a private event. You must have a ticket to enter. Door entry is enforced!!
HOPE TO SEE YOU THERE. THIS IS THE POWER SHOOT YOU DONT WANT TO MISS.
DON'T FORGET TO BRING YOUR BUSINESS CARDS TO NETWORK.
Check out the Designer and Photographer line ups:
Designer:
1. Andrea Rowe @arowedesignsllc
2. Starr Thompson @5ive_11
3. Laquana Alexander @iamlapink
4. Gregory Stitch @gregory_stitch
5. Latasha Perry @urbanattikz
6. Chanique Quinones @geekjunky
7. Gaudy Apparel @gaudyapparel
8. NATURAL ATTRACTION @nafshows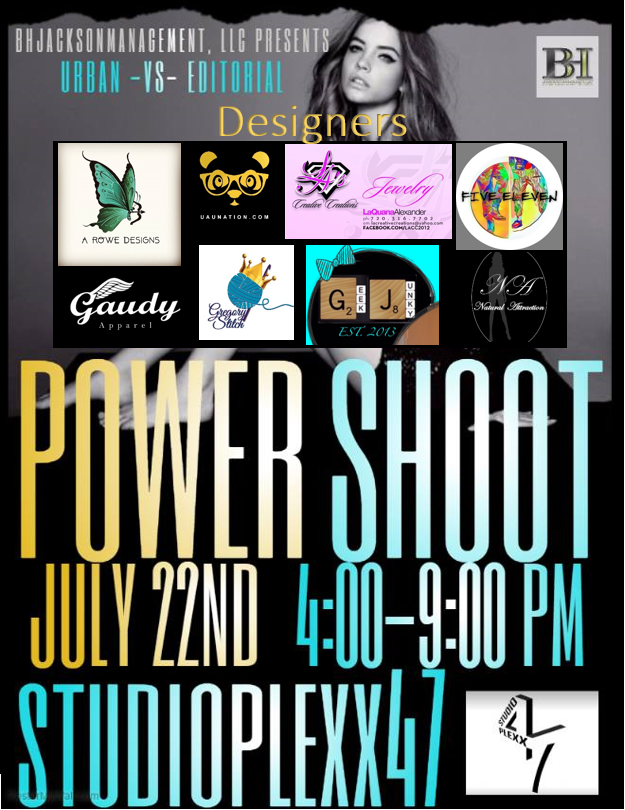 Photographer:
1. Chelsea Aaron @Photo22graph
2. Deanna Smith @saucytouchphotography
3. Kelle Hines @studio414portraits
4. DJ Adams-Walker @djadamsphotography
5. Shah Ali @thephotographystage
6. Horace Robinson @hr327horace
7. Daniel V Miranda @dvmproductions2996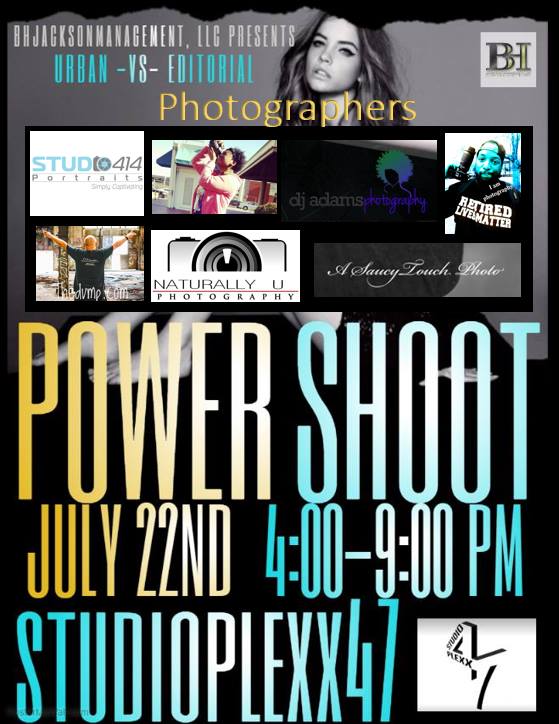 FOLLOW US ON IG @bhjacksonmanagementllc and like out FB page BHJacksonManagement, LLC
Registration Fees:
Models: $15
Designers: $15
Vendors: $15
Photographers: $10


Fee? Models and phtographers get updated pics for their ports along with high quality pics for the designers of their work. Everyone walks away from the shoot feeling accomplished!! As a model you had the opportunity to rock some of the best high fashion pieces from ATL's top designers. As a photographer, you get to walk away from the power shoot knowing that you shot over 30+ models along with 4-6 designers to add under your belt. As a designer you walk away knowing that you dressed some of the most beautiful models in ATL in your amazing garments and that these photos will get posted on all social media by the photographers and models giving your brand more exposure, along with knowing you will receive the pictures to show for it.
Rather paying $50-75/hour for a photoshoot where you get 2-3 edited photos...why not come to our power shoot where you as a designer or photographer get 30+ models to shoot or dress, over 6-8 designers to work with as a photographer or model, and 6-7 photographers to shoot with as a designer or model ALL for under $20 bucks. YOU CAN"T BEAT IT!!
FAQs
Are there ID or minimum age requirements to enter the event?
You must be 16+ to attend the event. 16-17 year olds must have adult supervision with them.
What can I NOT bring into the event?
Please no alcohol, weapons or drugs
How can I contact the organizer with any questions?
If you have any questions please feel free to email bhmanagementllc@yahoo.com
What's the refund policy?
There are NO refunds for this event. ALL sales are final.
Is my registration fee or ticket transferrable?
NO, your registration fee is not transferrable. The person who wants to attend must purchase their own ticket.
How will the models and designers get their photos?
All models and designers will be presented with a sheet that has ALL the photographers email addresses and IG handles on them. It will be your responsibility to reach out to the photographers for photos. If BHJacksonManagement, LLC recieves drop box links we will forward them over to the models and designers.