Description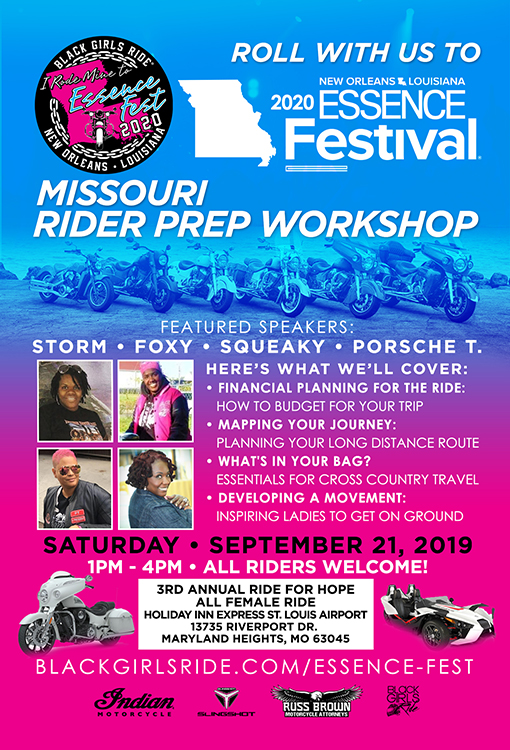 We are excited to announce our BGR to Essence Fest Rider Prep Workshops! Join Storm, our Carolinas Ride Leader Foxy, our Midwest Ride Leader Squeaky, along with Porsche Taylor of Black Girls Ride Magazine for a presentation to gear you up for our upcoming Ride to Essence Fest - July 2 - 5, 2020, in New Orleans, LA. Lunch & Raffle Giveaways are provided courtesy of the 3rd Annual Ride for Hope All Female Ride, Indian Motorcycle, Russ Brown Motorcycle Attorneys, and Black Girls Ride Magazine!

When: SATURDAY, SEPTEMBER 21, 2019
1PM - 4PM
Where: 3RD ANNUAL RIDE FOR HOPE ALL FEMALE RIDE
HOLIDAY INN EXPRESS ST. LOUIS AIRPORT-RIVERPORT
13735 RIVERPORT DR. ?
MARYLAND HEIGHTS, MO 63045

We'll Cover:
• Financial Planning for the Ride: ? How to budget for your trip
• Mapping Your Journey: ? Planning your Long Distance Route
• What's in your bag? Essentials for cross country travel?
• Developing A Movement: Inspiring Ladies to Get On Ground
As always, ALL RIDERS ARE WELCOME!
Early Bird Registration is now available for Black Girls Ride to Essence Fest 2020! Get the full details and Register now at blackgirlsride2essence2020.eventbrite.com. Got questions? Contact our Midwest Ride Leader: Squeaky at (614) 989-3956
Vendor & Sponsorship opportunities are Available for Black Girls Ride to Essence Fest 2020 in New Orleans! For more info, contact Porsche Taylor at (310) 733-0508.
Get the latest issue of Black Girls Ride Magazine at blackgirlsride.com!