Description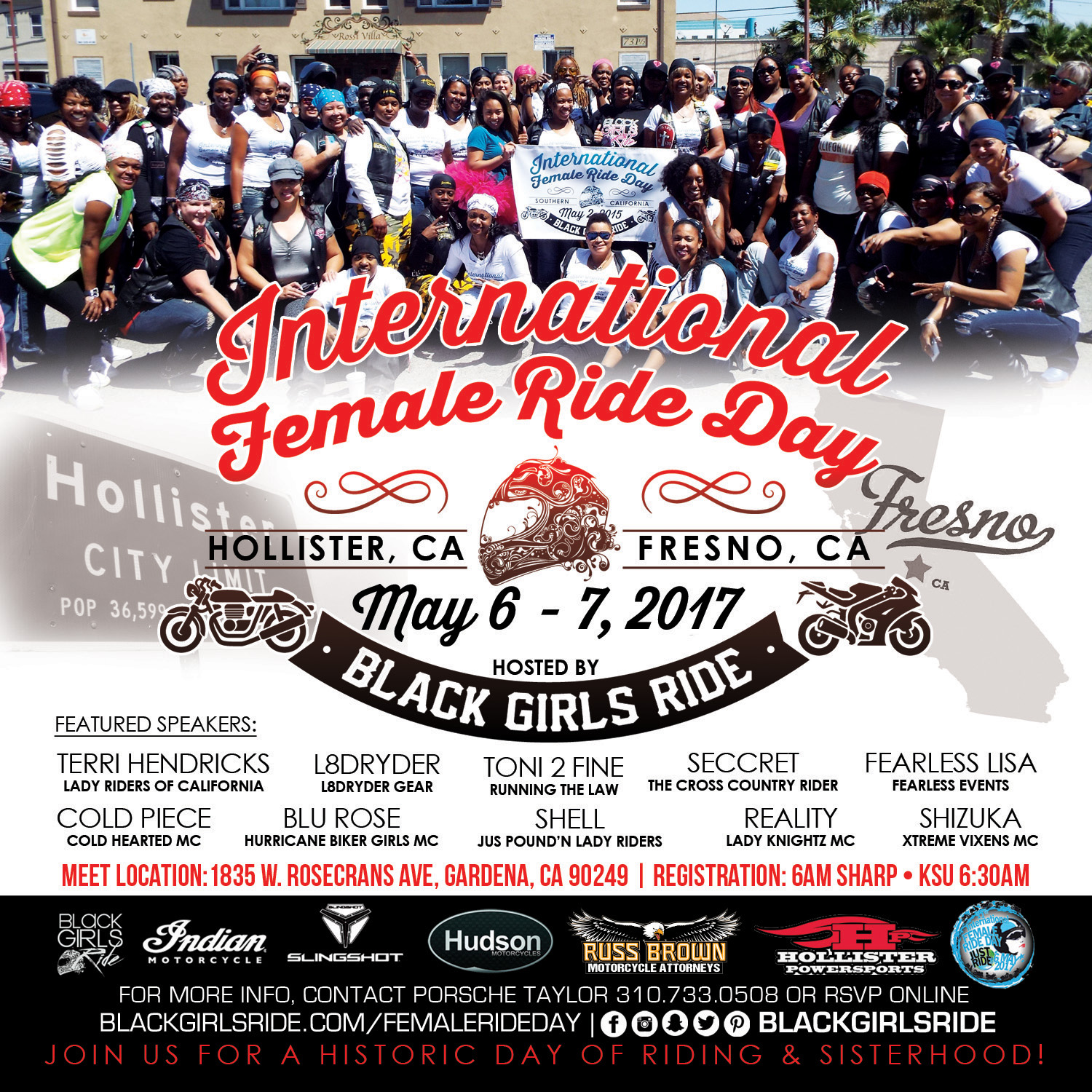 We're hosting our 5th Annual Female Ride with a trip to Hollister, CA...the historic birthplace of motorcycle culture, where we'll hear from living legends & build bonds on ground! Our host, Hollister Powersports, will provide a BBQ Lunch, raffles and prizes! Then, roll with us to the annual Fresno run!

Who's invited? ALL FEMALE RIDERS OF ALL LEVELS. Looking to take your first long distance ride? Come along with us! Special invite to all Female Motorcycle Clubs! We welcome you to set up a table and share the history and herritage of your club! Got questions? As always, THIS IS A FREE RIDE. REGISTRATION IS FREE.
For more info, contact Porsche Taylor (310) 733-0508. Special thanks to our Sponsors: Indian Motorcycle, Polaris Slingshot, Hollister Powersports, Russ Brown Motorcycle Attorneys, Hudson Motorcycles, and Black Girls Ride Magazine!
Meet Time:
6:00AM Sharp, KSU 6:30AM
Lunch Location:
1835 W. Rosecrans Ave, Gardena, CA
1st Stop: Hollister Powersports
2nd Stop: Fresno, CA

Just a few quick updates:
1. Please be sure to register via the Eventbrite link. It's free to register, and helps us get a count for giveaways, lunch, road captains and everything we need to prepare for a smooth and safe ride! If you haven't registered yet, go now:
https://www.eventbrite.com/e/bgr-female-ride-weekend-to-hollister-fresno-ca-tickets-32171370435?aff=eac2
2. Last day to order your shirt is Friday, March 31.
We won't sell any at the ride, so please order yours in advance! 2 weeks left!
3. New Itinerary Notes - After Hollister:
- We'll be joining the Road Queens MC in Fresno for a pep rally to celebrate the Bessie Stringfield All Female Ride in Killeen, Tx.
- Then, we'll join the Lady Bikers of California for dinner. You'll need to get your dinner tickets here: https://www.eventbrite.com/e/lady-bikers-of-california-celebrate-international-female-ride-day-2017-tickets-30355723787?aff=eac2
- Next, We'll ride to the Soul Brothers MC party!
4. We're heading back to LA at 9am, so be sure to get some rest!
Fresno Hotel Info:
Vagabond Inn
2570 S East Ave
Fresno, CA 93706
(559) 486-1188
Room Rate: $97/night