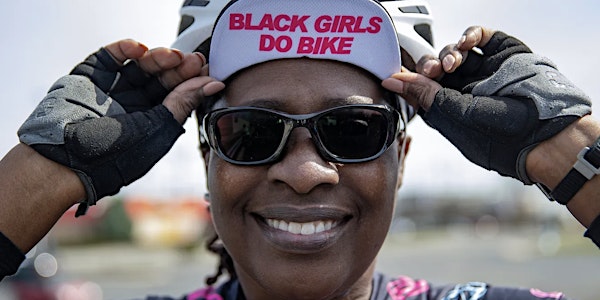 BGDB: PITTSBURGH National Meetup Chapter Ride
Join a casual ride hosted by the ladies of Black Girls Do Bike: Pittsburgh Explore our beautiful city on two wheels.
By Black Girls Do Bike Inc
Date and time
Saturday, August 27, 2022 · 8:45am - 12pm EDT
About this event
Start Time: 8:45am
Wheels Down: 9:00am
Distance: 20 miles
Meet Location: (Host Hotel) The Westin Pittsburgh,1000 Penn Avenue Pittsburgh, Pennsylvania 15222
End time: approx 12:00pm
By reserving a ticket for the ride, I agree to the following terms...
IN CONSIDERATION of being permitted to participate in any way in BGDB sponsored Bicycling Activities ("Activity") I, for myself, my personal representatives,
assigns, heirs, and next of kin:
1. ACKNOWLEDGE, agree, and represent that I understand the nature of Bicycling Activities and that I am qualified, in good health, and in proper physical condition to participate in such Activity. I further acknowledge that the Activity will be conducted over public roads and facilities open to the public during the Activity and upon which the hazards of traveling are to be expected. I further agree and warrant that if, at any time, I believe conditions to be unsafe, I will immediately discontinue further participation in the Activity.
2. FULLY UNDERSTAND that (a) BICYCLING ACTIVITIES INVOLVE RISKS AND DANGERS OF SERIOUS BODILY INJURY, INCLUDING PERMANENT DISABILITY, PARALYSIS AND DEATH ("Risks"); (b) these Risks and dangers may be caused by my own actions or inactions, the actions or inactions of others participating in the Activity, the conditions in which the Activity takes place, or THE NEGLIGENCE OF THE "RELEASEES" NAMED BELOW; (c) there may be OTHER RISKS AND SOCIAL AND ECONOMIC LOSSES either not known to me or not readily foreseeable at this time; and I FULLY ACCEPT AND ASSUME ALL SUCH RISKS AND ALL RESPONSIBILITY FOR LOSSES, COSTS, AND DAMAGES I may incur as a result of my participation in the Activity.
3. HEREBY RELEASE, DISCHARGE, AND COVENANT NOT TO SUE BGDB, its respective administrators, directors, agents, officers, members, volunteers, and employees, other participants, any sponsors, advertisers, and, if applicable, owners and lessors of premises on which the Activity takes place, (each considered one of the "RELEASEES" herein) FROM ALL LIABILITY, CLAIMS, DEMANDS, LOSSES, OR DAMAGES ON MY ACCOUNT CAUSED OR ALLEGED TO BE CAUSED IN WHOLE OR IN PART BY THE NEGLIGENCE OF THE "RELEASEES" OR OTHERWISE, INCLUDING NEGLIGENT RESCUE OPERATIONS. And,
I FURTHER AGREE that if, despite this RELEASE AND WAIVER OF LIABILITY, ASSUMPTION OF RISK, AND INDEMNITY AGREEMENT I, or anyone on my behalf, makes a claim against any of the Releasees, I WILL INDEMNIFY, SAVE, AND HOLD HARMLESS EACH OF THE RELEASEES from any litigationexpenses, attorney fees, loss, liability, damage, or cost which any may incur as the result of such claim.
4. I/WE FURTHER ACKNOWLEDGE THAT THE RISK OF CONTRACTING OR PASSING COVID-19 IS A CURRENT CONCERN, AND WAIVE ANY AND ALLCLAIMS OF COVID-19 RELATED TRANSMISSIONS OR IMPACTS THAT I/WE HAVE OR MAY HAVE IN THE FUTURE AGAINST THE RELEASEES.If you determine after this ride that you may have been COVID 19 positive, or been in contact with someone who is, please contact your ride leader so we can follow contact tracing protocols. We will maintain your anonymity throughout this process. Thank you in advance for your cooperation and understanding.
I AM 18 YEARS OF AGE OR OLDER, HAVE READ AND UNDERSTAND THE TERMS OF THIS AGREEMENT, UNDERSTAND THAT I AM GIVING UP SUBSTANTIAL RIGHTS BY SIGNING THIS AGREEMENT, HAVE SIGNED IT VOLUNTARILY AND WITHOUT ANY INDUCEMENT OR ASSURANCE OF ANY NATURE AND INTEND IT TO BE A COMPLETE AND UNCONDITIONAL RELEASE OF ALL LIABILITY TO THE GREATEST EXTENT ALLOWED BY LAW. I AGREE THAT IF ANY PORTION OF THIS AGREEMENT IS HELD TO BE INVALID, THE BALANCE, NOTWITHSTANDING, SHALL CONTINUE IN FULL FORCE AND EFFECT.
About the organizer
Who is BlackGirlsDoBike.com?
Blackgirlsdobike.com's interest is in growing and supporting a community of women of color who share a passion for cycling. We champion efforts to introduce the joy of cycling to all women, but especially, black women and girls.   We are establishing a comfortable place where female cyclist can support, advise, organize meet-ups/rides and promote skill-sharing.  We look to share positive images of ladies and their bikes to affirm the truth that black girls do indeed bike!   We support bike advocacy, education, volunteerism and safety in all communities and corners of the world.