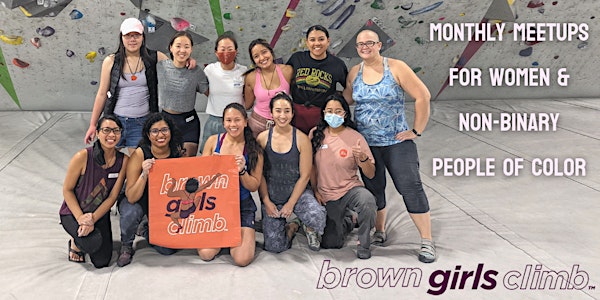 BGC Nevada December Meetup
Brown Girls Climb (BGC) Nevada hosts monthly climbing meetups for women and non-binary people of color
When and where
Location
The Pad Henderson 7585 Commercial Way #J Henderson, NV 89011
About this event
Brown Girls Climb (BGC) has a new chapter in Nevada. Please join us in learning more about BGC, building our community in Las Vegas, and having fun climbing!
This is a space to climb, hang, be joyous, and form community with People of the Global Majority*. All skill levels are welcome and celebrated.
**BGC events are reserved for women and non-binary people of color**
----
EVENT DETAILS
Date: Thursday 12/8/22
Time: 6:00-9:00pm
Location: The Pad Henderson
Schedule:
6:00 - Welcome & Sign-In
6:20 - Introductions
6:30 - Group Stretch & Warm up
6:40 - 8:00 - Climbing
8:00 - Wrap up, group picture, & any other announcements (but we'll stick around until 9:00!)
Pricing: FREE! (includes free gear rental)
Accessibility details of the gym: The facility is all single level with no stairs needed to access amenities. There is a ramp accessible about 50ft to the right of the entrance (just to the right of the accessible parking spot).
----
THINGS TO DO BEFORE THE MEETUP (if you have NOT attended previously):
----
WHAT TO BRING
Wear clothing that you feel comfortable moving, wiggling, and trying hard in
Masks are recommended for our meetup
Water Bottle
Snacks if you want
Climbing shoes (if owned)
Harness (if owned and plan on rope/autobelay climbing)
Belay device (if owned and planned on top rope climbing)
----
A note on BGC's focus:
We strive to facilitate mentorship, provide access, uplift leadership, and celebrate representation in the outdoors and climbing for People of the Global Majority*. (Black, Indigenous, Self-Identified People of Color)
*We use "people of the global majority" (PGM) interchangeably with "black, indigenous, and people of color" (BIPOC), since black, indigenous, and people of color represent over 80% of the world's population. This wording points out the demographic inaccuracy of the euphemism "minority" and can feel more empowering for some people.*-PGMONE
Historically, we have focused on Women of Color in climbing, but recognize that our work goes beyond women such that our hope is to have a wider impact on all climbers, specifically those impacted by patriarchal systems.
----
CONTACT
If you have any questions, you can contact our BGC Nevada local leaders, Christine (cjoy.antonio@gmail.com) or Katie (ottkathe@gmail.com)