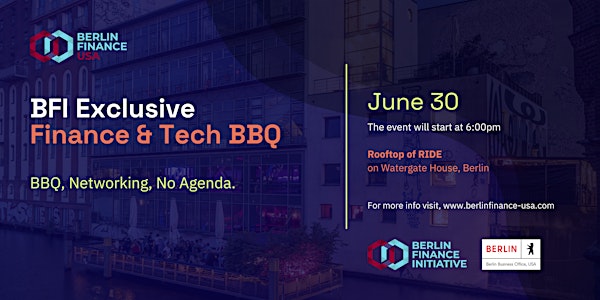 BFI Exclusive Finance & Tech BBQ
Join our yearly Finance & Tech BBQ on the RIDE Rooftop to mingle with Fin & Tech leaders in Berlin! (Tickets on request only)
When and where
Location
Rooftop of RIDE on Watergate House Falckensteinstraße 49 10997 Berlin Germany
About this event
We want to invite you to the exclusive and relaxed Finance & Tech BBQ (also vegetarian) for Berlin's tech and finance scene.
Once again, top founders, C-levels, and politicians from Berlin will be present on the rooftop of Haus Watergate. We are already pleased that Berlin's Senator of Finance, Daniel Wesener, Secretary of State for Economics Michael Biel, and Bundesbank board member Prof. Dr. Joachim Wuermeling have confirmed their attendance. Representatives of Berlin universities and business schools will also be present.
Like last year, the event is about getting to know each other, building bridges with no agenda - and showing interest in Berlin as a digital finance and technology location for Europe.
This event is sold out. However, as a member of "Fin-Tech Leaders," we have a limited amount of remaining tickets. Please write an email to alexander.daamen@berlin-finance-initiative.de about your ticket.