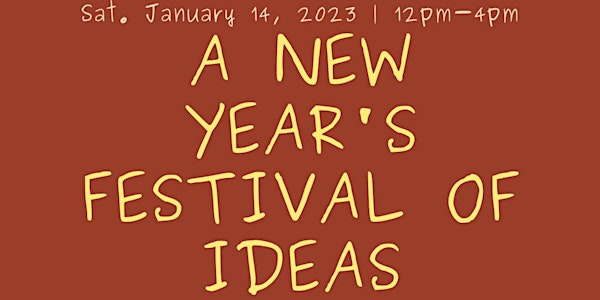 BFHES New Year's Festival of Ideas for Homeschooling Black Families
Join Black Family Homeschool Educators and Scholars (BFHES) for a virtual exchange of ideas, visioning and fellowship as you plan for 2023.
Refund Policy
Contact the organizer to request a refund.
Eventbrite's fee is nonrefundable.
About this event
Join Black Family Homeschool Educators and Scholars (BFHES) for the 2nd annual BFHES New Year's Festival of Ideas for Homeschooling Black Families.
We invite homeschooling parents for this festive virtual learning exchange led by BFHES director Dr. Khadijah Ali-Coleman.
THIS IS A VIRTUAL EVENT
Dr. K will be joined by homeschooling dynamos Cheryl Carter, Kendra Price, Jade Weatherington, Tracie Yorke, Arden Santana, Christal Banks, Dr. Dannielle Joy Davis, M. Tonita Austin, Alycia Wright and Felicidy Flucas of Scholarship Time who will be sharing tips from their own journey throughout the day. Join us!
GIVE-AWAYS & GAMES!
Tentative Schedule:
12pm: Parent Meet-Up & Visioning Party
Meet other homeschooling parents, play a few fun games and work on a virtual vision board using Canva to get your new year started right!
1pm: What Apps Are Making Homeschooling Easier?
Whether you are starting to homeschool mid-year or prepping for the fall, join this Zoom call for a discussion on free and low-cost apps that are invaluable when actively homeschooling.
2pm: Is it Possible to Do Math Without Mathing? Games, Field Trips & Every Day Tasks that Make Learning Math Easier
Math is often the subject that scares off parents from homeschooling. How do we invite math instruction into our homeschool practice without fear? Parents share how they make sure their children are learning math from a place of empowerment and competency.
3pm: How Early Can I Start Homeschooling on a College Pathway?
Not all parents are homeschooling on a college pathway, but many are. Veteran homeschooling parents share ways that they homeschool on a college pathway through self-directed learning, intensive college prep activies, familiarity with scholarship options, etc.
Throughout the event, there will be give-aways that include free tickets to the 4th annual BFHES Virtual Teach-In, the BFHES book, Homeschooling Black Children in the US and more!
--
ABOUT BLACK FAMILY HOMESCHOOL EDUCATORS AND SCHOLARS (BFHES), LLC
BFHES was started by two Black homeschool researchers conferring during the planning for our book project on Black homeschooling. Our mission is to provide ongoing community engagement regarding Black homeschooling through (1) the publication of scholarly and trade work on the topic, and (2) the production of community events targeting black homeschool familites and entrepreneurs engaged in the practice of black homeschooling.
BFHES presents an annual Virtual Teach-In other virtual events where we feature dozens of homeschool practitioners, researchers and educational consultants sharing valuable guidance on how to develop a fruitful homeschooling family practice.In addition, we maintain a burgeoning community of homeschool educators via Facebook. As of this writing, the group has surpassed 3400 members since its start in July 2020. We also have a growing archive of content on our YouTube channel and regularly engage through online spaces such as Twitter, Instagram and LinkedIn.
We offer training, events and publication opportunities for homeschooling parents and education researchers.