Description
SpelLIFE is an annual women's wellness summit dedicated to sharing knowledge from around the world, as well as local services available in Southwest Florida, that help women live physically, emotionally and financially richer lives. The summit encompasses speakers and community resources that inspire, educate and center around the Eight Dimensions of Wellness - which SpelLIFE: Spiritual, Physical, Environmental, Leisure, Local, Intellectual, Financial and Emotional.
Presented by: A Euphoric Living Foundation and èBella Magazine
---
Keynote Speakers: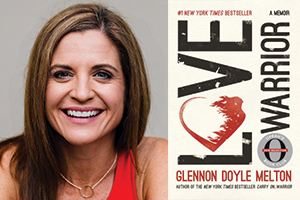 GLENNON DOYLE MELTON
Glennon Doyle Melton is the author of the inspiring and hilarious New York Times bestselling memoir, Carry On, Warrior, and the #1 New York Times bestselling memoir Love Warrior, which was chosen as one of Oprah's Book Club picks for 2016. She is the founder of Momastery.com, an on-line community where hundreds of thousands of readers meet daily to experience her shameless and laugh-out-loud funny essays about marriage, motherhood, faith, addiction, recovery, and serving the marginalized. She is also the creator and president of Together Rising, a non-profit organization that has revolutionized on-line giving through "Love Flash Mobs" and has connected countless families in need with millions of dollars in critical resources.
Glennon became a sensation when her personal essays, which give language to our universal (yet often secret) experiences, started going viral. Her hilarious and poignant observations have been read by millions, shared among friends, discussed at water coolers and have now inspired a social movement. Glennon is a regular contributor to The Huffington Post and other publications. Carry On, Warrior, Glennon and her philanthropic work have been featured on The Today Show, The Talk, and NPR as well as in Ladies' Home Journal, Woman's Day, Glamour UK, Family Circle, Parents Magazine, American Baby and Newsweek, to name just a few.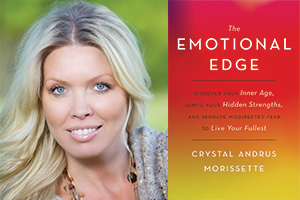 CRYSTAL ANDRUS MORISSETTE
Emotional Age and communication expert and women's advocate, Crystal Andrus Morissette is a worldwide leader in the field of self-discovery and personal transformation. She is the founder of the S.W.A.T. Institute (Simply Woman Accredited Trainer), an empowerment coach certification exclusively for women that she created with fellow female visionaries Louise Hay, Marianne Williamson, Dr. Christiane Northrup, Colette Baron-Reid, and Sandra Anne Taylor among others.
Crystal is the author of four best-selling books, including her latest release, The Emotional Edge: Discover Your Inner Age, Ignite Your Hidden Strengths and Reroute Misdirected Fear to Live Your Fullest. She is also certified in nutrition and sports medicine. Crystal overcame seemingly insurmountable odds—her parents' turbulent divorce, rape, abuse, homelessness, cervical cancer, a traumatic head injury and gaining 80 pounds—to create a life of joy and purpose. Now, she is helping women all over the world to do the same. Crystal has appeared on Oprah.com, The New York Post, Fox TV, The Daily Mail, CBS Radio, CTV, CityTV, Global TV, Slice TV, The Globe and Mail, and the Toronto Star. She lives in southern Ontario with her husband and two daughters. Learn more at TheEmotionalEdge.com and SWATInstitute.com.
---
BREAKOUT SESSIONS
(Choose two when purchasing ticket.)
THE LANGUAGE OF BREATHING AND HEALING
Speaker: Gaynell Anderson, PT, CSCS, CMPT, Owner of Absolute Physical Therapy of Southwest Florida, LLC absoluteptswfl.com
BRIDGING YOUR PASSION & PURPOSE WITH YOUR MONEY
Speaker: Jill Ciccarelli Rapps, Trained Life Coach, CERTIFIED FINANCIAL PLANNER™ professional at Ciccarelli Advisory Services, Inc., CASMoneyMatters.com/jill-speaking
Speaker: Mindy DiPietro, COO of Aesthetic Treatment Centers, AestheticTreatmentCenters.com
Speaker: Deb Logan, M.Ed., RD, LD/N, Executive Director of the Blue Zones Project - Southwest Florida, southwestflorida.bluezonesproject.com
Speaker: LaDonna Roye, Owner of LaDonna Roye Hairstylists, LaDonnaRoye.com
---
SPONSORS
Blue Zones Project of SWFL by Healthways
Wynn's Market
Image MD Medical Weight Loss & Aesthetics
---
April 1, 2017 | 9:30 AM to 2:00 PM
(Exhibit Hall opens at 8:30 AM)
For more information visit: AEuphoricLivingFoundation.org or call 239.598.0961