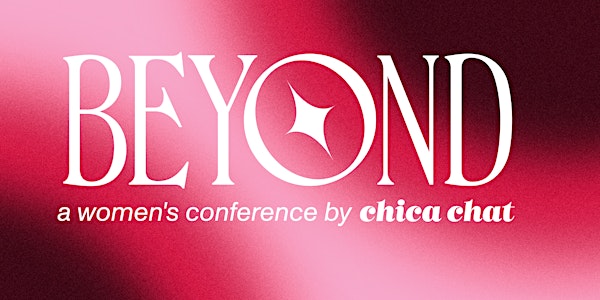 Beyond Women's Conference
Join us for Chica Chats' inaugural women's conference tailored for the natural-born Jefas in our community.
When and where
Location
Moonlight Adobe Hall 10180 Socorro Road Socorro, TX 79927
About this event
Jefa \heh-fah\ n.: An empowered woman willing to work hard to achieve her dreams and ambitions
Beyond embodies the essence of an empowered woman who steps out of traditional roles and breaks paradigms by bringing innovation to her surroundings.
The conference will explore creative ideas and capture new interests through panel discussions and workshops that connect women who aim to enhance their personal and professional growth.
Themes will focus on community collaboration in business and explore wellness practices that help women thrive in today's challenging, fast-paced world.
Panels
Altruistic Jefas
Structuring a business around a cause that strikes tangible change on social issues is not easy, but these Jefas are making it happen. Altruistic Jefas examines the maker behind the brand, celebrates how authentic community values make a company flourish, and demonstrates a unique and compelling case for giving back. Explore the causes these women businesses chose to support and how they are pivoting enterprise by making an impact.
Somos Chingonas
Is it a work-life balance or a juggling act? Proactively avoiding burnout can mean the difference between hitting your monthly revenue goals and ending up at the doctor's office because your immune system has been compromised from stress. Listen to how these Chingonas are learning when it's important to hit the pause button for their overall sense of wellbeing and sanity. Not just for their personal life but for their businesses' continued success.
Workshops
Navigating Social Media Workshop
Whether you're a solopreneur or small business owner, wearing multiple hats is essential to the success of your franchise. Today that includes staying up-to-date with social media trends that incorporate skills in photography, videography, copywriting, and advertising specialties. Learn how to set yourself up for success and differentiate your business from your competitors on social platforms that serve your audience best.
Deep Breath to De-Stress
Health study after health study tells us the lasting adverse effects and impact stress has on our overall health. We know we need less of it in our lives, but let's face it, as entrepreneurs, stress is a part of the job description. So let's hack our nervous systems and use the regulation techniques we are born with – our lungs! Regulated breath can improve mental health, social connectedness, positive emotions, stress levels, depression, and mindfulness benefits. Get comfortable and ground yourself with a guided sound bath meditation.
Interested in becoming a sponsor? Please reach out to daniela@chicachat.org.
Learn more about Chica Chat.