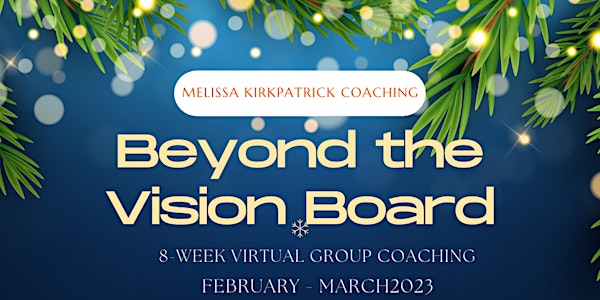 Beyond the Vision Board - Mindset and Focus to make your dreams reality!
Your vision board will only deliver if you activate the magic that produces rapid results. You want more of what you desire -this is for YOU
About this event
Beyond the Vision Board— an 8-week Virtual Group Coaching program starting February 1, 2023, with Melissa Kirkpatrick leading the lessons to support your focus on your goals and desires.
We know the value in having accountability, which this program offers, and it will be a game changer for those ready to set themselves up for success using their vision board goals to make the next version of you —the best yet!
Together we will make those big dreams your new reality sooner than you think.
This program is for those with high ambitions and who are ready to level up. This group program will last 3 months, which is time to get your goals established and a path to accomplish them.
Melissa will provide training and activities for the support, accountability, focus, and motivation to align with your goals and dreams to create what you truly desire to be-do-have for your life.
Each week you will receive in-depth training and practice for:
🦋- mindset adjustments, programming, and hacks
🦋- inspired action steps and accountability checklist
🦋- DRIVE for when the motivation runs out
🦋- awaken your dreamer with visualizing techniques for igniting rapid results
Everything you need is delivered to your inbox with a monthly Q&A Zoom meeting.
You deserve the best — and investing in you is where it starts.
Early bird special is now available —
8 weeks online, $197
Melissa is all about teaching others how to build your lighthouse (life's purpose) in the bedrock for a stable foundation and is ready to help you get clear, get excited, and get busy living your best life now.