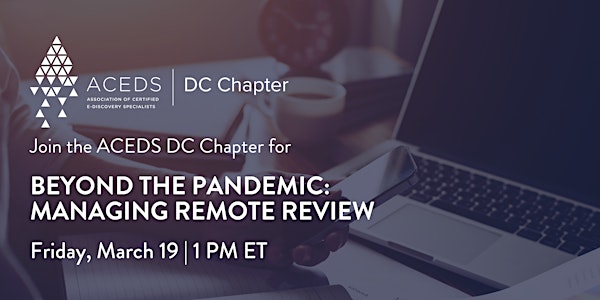 Beyond the Pandemic: Managing Remote Review
Join the ACEDS DC Chapter for an event
About this event
Join ACEDS DC Chapter's own Josh Raynes, Associate at Kraftson Caudle, and managed review experts Nicole Fryson of Transperfect Legal Solutions, Gregory MacFarlane of Disco and Mike Ryan of Special Counsel for a riveting discussion on the challenges, successes and future of managing remote review.
Moderator:

Josh Raynes has experience in many aspects of large construction disputes from claim drafting through litigation. He has successfully provided the Firm's clients with valuable results on complicated disputes arising from projects such as construction of: electrical transmission lines, highways, hydroelectric power plants and public waterworks. Whether for an owner or contractor, he is a tireless advocate and innovative thinker for his clients and their bottom lines.
Josh is a Certified E-Discovery Specialist through the Association of Certified E-Discovery Specialists (ACEDS).
Panelists:

Nicole Fryson joined TransPerfect in 2019 and is the Director of Project Management at TransPerfect Legal Solutions (TLS). Nicole oversees the global Managed Review Project Management team located in the United States and the United Kingdom. She is responsible for the optimization and performance of all of the review teams, training of personnel, and development and implementation of policies and procedures. Additionally, she advises clients on review workflow strategy in order to maximize the efficiency of every review. Nicole has over 17 years of legal experience, at law firms, government regulators, and with other managed review vendors.

Mike Ryan is a Director of Delivery at Special Counsel. He helps manage a team of over 30 project managers as well some of Special Counsel's most complex cases and workflows including implementing active learning and various MDL matters. He has been managing remote teams for seven years.

Gregory MacFarlane works with F1000 Corporations, law firms and Government Agencies to increase accuracy and profitability by improving efficiency and productivity. Well versed in all aspects of litigation workflow, he focuses on eDiscovery processes, services and software applications to help clients overcome the challenges of managing big data in addition to litigation consulting including contract lifecycle management, risk management and regulatory compliance.