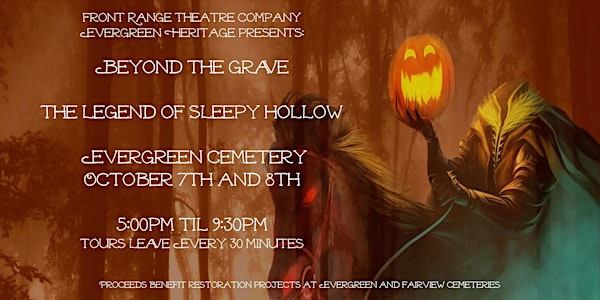 Beyond The Grave Presents: The Legend of Sleepy Hollow
The Legend of Sleepy Hollow comes to life at Evergreen Cemetery
About this event
Join us, on the night of the full moon, as Front Range Theatre Company and Evergreen Heritage bring to life Washington Irving's haunting story of the Headless Horseman. Was the headless Hessian a figment of the mind, or did this specter haunt the Sleepy Hollow cemetery?
Our story begins at the historic Evergreen Chapel, the home of Baltus Van Tassel, where you are invited to a lovely harvest party, with light refreshments, held in honor of his beautiful daughter Katrina.
As the party moves through the shadowy grounds of historic Evergreen Cemetery, you may meet Brom Bones vying for the hand of the lovely and wealthy Katrina or by chance, you may make the acquaintance of the lanky school master Ichabod Crane.
About this event:
You will ride through the most historic areas of the cemetery as the Legend of Sleepy Hollow comes to life right before your eyes.
Do you believe in ghosts? You may after this event!
Proceeds benefit Evergreen Heritage. Evergreen Heritage works tirelessly to preserve and restore the historic monuments at both Evergreen and Fairview Cemeteries.
To purchase tickets, please click
SELECT A DATE
Choose your preferred tour time and purchase. Please print your tickets, as no tickets will be mailed to you.
Ticket sales end 2 days before the event. All tickets must be purchased in advance.
GROUPS ARE LIMITED TO 20 GUESTS PER TIME SLOT
The length of each tour is approximately 1 hour