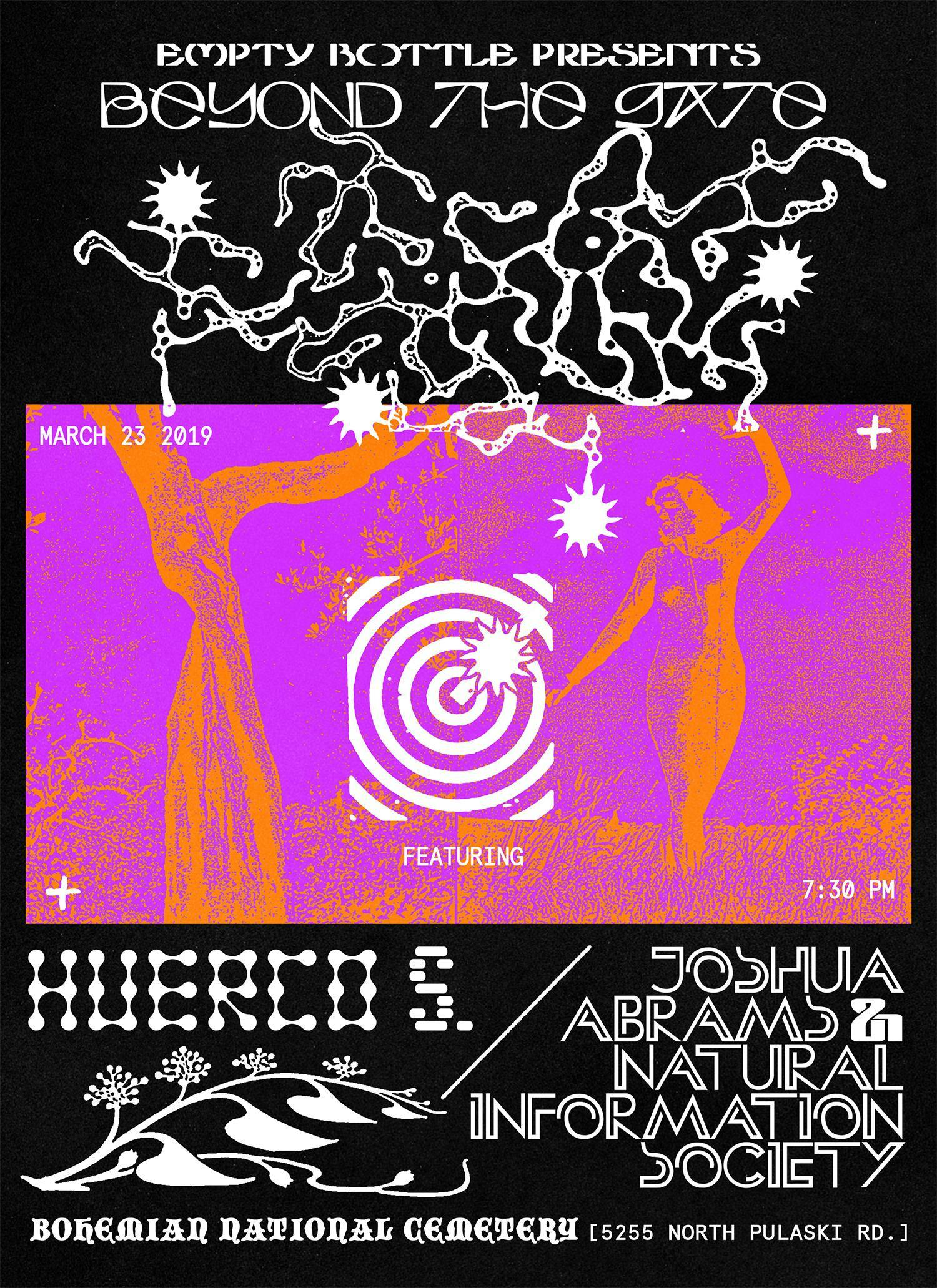 About this Event
$20 // 21+
Beyond The Gate featuring...
JOSHUA ABRAMS & NATURAL INFORMATION SOCIETY
BRENT HEYL (DJ SET)
-------------------
NOTE: THIS EVENT TAKES PLACE INDOORS IN THE CHAPEL OFF OF THE FOSTER ENTRANCE. THIS IS NOT THE SAME LOCATION AS WHERE THE SUMMER AND FALL EVENTS TAKE PLACE.
Born in Kansas City but based in Brooklyn, HUERCO S. (Brian Leeds) was one of the most celebrated producers of the 2010s lo-fi house underground. His offbeat, abstract dance tracks, often featuring smudged textures and erratic beats as well as ambient synth pads and mysterious samples, first surfaced online around 2011. Following 2012's No Jack EP on the Ukrainian label Wicked Bass, an untitled cassette appeared on Basic House's tastemaking experimental techno label Opal Tapes. The tape helped gain HUERCO S. a cult following, and Boomkat Editions later reissued it on vinyl. Following the R.E.G.A.L.I.E.R. EP under the pseudonym Royal Crown of Sweden, issued by Anthony Naples' Proibito label in April of 2013, Future Times issued HUERCO S.'s Apheleia's Theme.
His acclaimed debut full-length, Colonial Patterns, appeared on Oneohtrix Point Never's Software imprint at the end of that summer. The EP A Verdigris Reader (simply credited to H.S.) was issued by Proibito in 2014, followed by Railroad Blues in 2015. The label also issued his second full-length, 2016's For Those of You Who Have Never (And Also Those Who Have), a stunning excursion into ambient music. He followed the album with an EP titled QTT4.
Since 2010 JOSHUA ABRAMS has toured North America & Europe with a shifting-line up of musicians as 'NATURAL INFORMATION SOCIETY'. The group uses traditional & electric instrumentation to build long-form intricately psychedelic environments, composed & improvised, joining the hypnotic qualities of the Gnawan guimbri to a wide range of contemporary musics & methodologies including jazz, minimalism & krautrock.