Beyond the Dream - Justice Rally - Aug 28th @ 7:30pm -Job & Career Fair 4pm

Wednesday, August 28, 2013 from 7:00 PM to 9:00 PM (PDT)
Event Details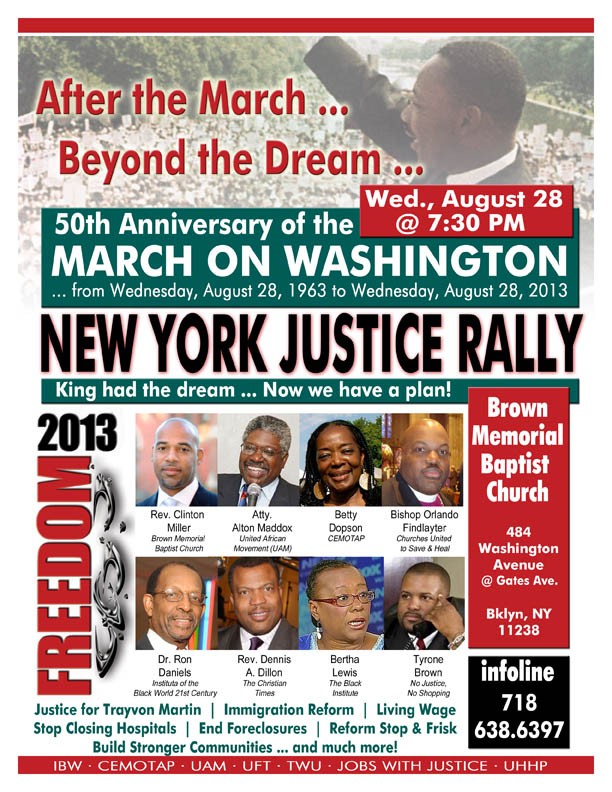 Have questions about Beyond the Dream - Justice Rally - Aug 28th @ 7:30pm -Job & Career Fair 4pm?
Contact Freedom 2013
When & Where

Brown Memorial Baptist Church
484 Washington Avenue
Brooklyn, NY 11238


Wednesday, August 28, 2013 from 7:00 PM to 9:00 PM (PDT)
Add to my calendar
Organizer
About Us
Starting in the 16th Century the trek of the shackled African began with monitory exchange and a key to lock the cuffs.Many boats sailed with livestock, human livestock. One of these boats ended up on the coast of America, therefore the origin of the African-American.
After over 300 years of enslavement, with the stroke of the pen we embark on the EMANCIPATION PROCLAMATION.
150 years ago, the President of the United States signed the decreed that slaves were essentially FREE.
Freedom 2013 is reflection and a mass conversation on where we are as a people and a nation. Asking question like:
Are we free?
Do we still have a slave mentality?
Where are we now today as descendants from slave
Recognize our victories and short comings
What are the solutions?
How do we move forward to a better tomorrow?
THE MISSION
To assemble together 10,000 to 14,000 people representing the diversity of America's culture and the richness of the global. Black community under one roof in New York.
The gathering purposes to commemorate the 150 years since the EMANCIPATION PROCLAMATION, and will serve to deliver strong and positive actions around some of the local (New York tri?state area), national and global crises that our communities face. This initiative will serve to motivate, educate and help to arm the nation and our world with specific information, resource and tools to address and solve some of these most pressing challenges such as business and economic parity, the foreclosure and underwater housing crisis, African and Caribbean investments, missions and diaspora collaboration, health and wellness, education and politics, and global economic policies and their impact upon disadvantaged countries and communities. At the core is the need for a new kind of spiritual awakening that will usher a new spirit of revival, the spiritual to the socioeconomic FREEDOM for Blacks in America and around the world.