Beyond the Central Park Five: What You Need To Know To Protect You & Your F...
Description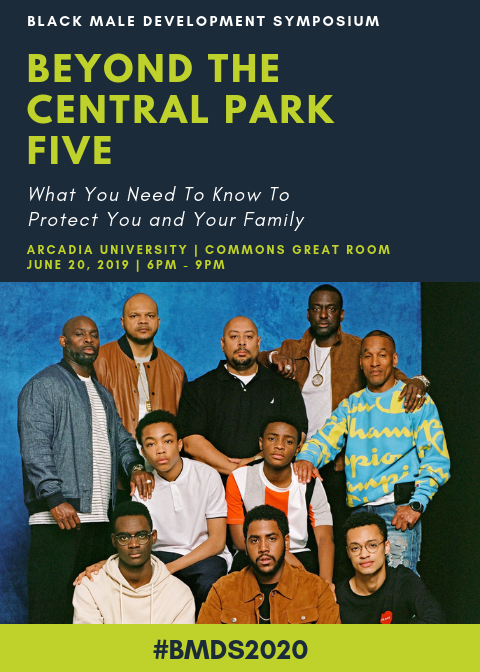 Join the Black Male Development Symposium on Thursday, June 20 as we discuss Ava Duvernay's latest project "When They See Us" and how the circumstances of the Central Park Five are still very prevalent and relevant today.
We will be joined by a variety of community voices of influence for a robust discussion, including:
Keir Bradford -Grey, Chief Defender, Defender Association of Philadelphia

G. Lamar Stewart - Former Philadelphia Police Officer, Director of Community Engagement, Philadelphia District Attorney's Office

David Miller, Author and founder Dare to Be King Project

Connie Grier, Re-entry Family Advocate

Michael Coard, Esq., Activist and Host TV Courtroom & Radio Courtroom (WURD Radio)

Troy H. Wilson, Esq., Wilson & Wilson Law Office

Leslie Faith Jones, Esq., Policy & Advocacy Director, Montgomery County Office of the Public Defender

Dean Beer, Esq., Chief Public Defender of Montgomery County
Co-sponsored by The Calm Society, The Black Alumni Association of Arcadia University, & the Arcadia University Pan African Studies Program.
Arcadia University
Commons Great Room
Thursday, June 20, 2019
6:00-9:00p
Contact number: 215-572-8510
Email: bmds.symposium@gmail.com