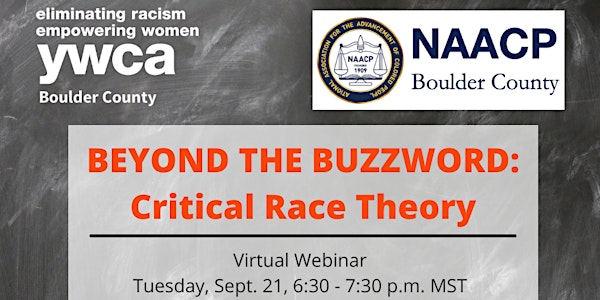 Beyond the buzzword: Critical Race Theory
Join the YWCA and NAACP for a powerful informational discussion to learn the facts about Critical Race Theory - what it is and isn't.
About this event
Critical Race Theory (CRT) is the buzzword of this summer. Barely searched in 2020, the term reached its popularity peak on Google trends in late June 2021, with related searches for "ban" and "Critical Race Theory taught in schools". Much of its popularity has been driven by state legislators who have introduced or passed bills to ban CRT from being taught in public schools. These efforts continue despite teachers' assertions that this graduate-level legal theory is not being taught in K-12 schools. It has however had a chilling effect: school districts and teachers are increasingly fearful that they will be in trouble for speaking about race, at all.
Join YWCA Boulder County and NAACP Boulder County for a powerful informational discussion for parents, students, teachers, and community members to learn the facts about CRT. Participants will learn from a panel of experts, during a moderated discussion, the information needed to challenge the misrepresentations of CRT being used to create barriers for educators who are working toward more inclusive curriculum and equity programming in schools.
Acknowledgement of the history of racism in our education systems as well as other institutions is critical to understanding and dismantling the multiple ways that racism is embedded throughout our community.
Esteemed Panelists:
Amie Baca-Oehlert, President of the Colorado Education Association
Baca-Oehlert represents the 35,000-member-strong statewide teacher's union. Committed to students and educators, Baca-Oehlert is a high school counselor from Adams 12 Five Star Schools.
Dr. Ashlea J. Campbell, EdD
Ashlea Campbell, EdD is a recent graduate of the Educational Studies doctoral program at the University of Northern Colorado. Her dissertation utilized critical race theory to examine the curricular decision-making and instructional practices of Black male elementary teachers. She currently works as an SEL Specialist for Richardson Independent School District and as an adjunct faculty member at the University of Northern Colorado.
Dr. Debora Ortega, PhD, MSW, University of Denver
Professor Debora Ortega is the founding director of the Latino Center for Community Engagement and Scholarship, a consortium of interdisciplinary faculty dedicated to creating and advancing knowledge that gives voice to the history, politics, culture and legacies of Latino communities. She joined the faculty of the University of Denver Graduate School of Social Work in 2005. Prior to her appointment at DU, she was a faculty member in the School of Social Welfare at the University of Kansas.
Dr. Stephanie Renee Toliver, University of Colorado, Boulder
Stephanie R. Toliver is an assistant professor of Literacy and Secondary Humanities at the University of Colorado, Boulder. Informed by her love of science fiction and fantasy texts as well as her experience as a 9th and 10th grade English teacher, Toliver's scholarship centers the freedom dreams of Black youth and honors the historical legacy that Black imaginations have had and will have on activism and social change.
Moderator: Elvira Ramos (she, her, hers), Mission Launch
Elvira Ramos directed programs and grantmaking efforts for the Community Foundation Boulder County for 10 years and currently co-directs Leadership Fellows Boulder County. In addition, she is a consultant and trainer with Mission Launch. She has more than 30 years' experience in nonprofit management and community relations and has worked in the areas of domestic violence, the unhoused, and mental health. Elvira is an experienced trainer and facilitator, and has focused much of her efforts over the years on DEI, inclusive leadership, and supporting historically underrepresented people to represent.