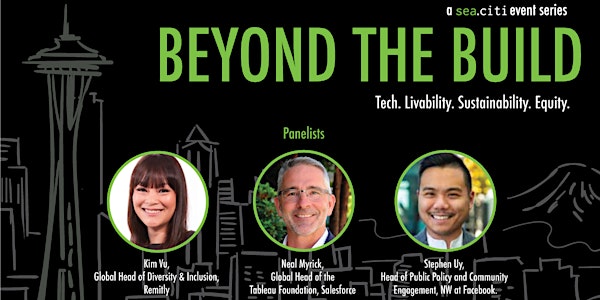 Beyond the Build - Standing for Racial Equity
Join sea.citi members for a deeper look at effective strategies to address racial inequities internally and in the community
About this event
There is no shortage of news about racial injustice.
We know there is much work to be done but we also know that there are companies taking tangible steps beyond making statements of support. Join sea.citi members for a deeper look at effective strategies to address racial inequities, and how those strategies are integral to how we emerge from over a year of uncertainty.
We'll ask them about:
Leveraging customer obsession and brand for equity
Infrastructure for inclusion and belonging that results in worker satisfaction, retention and promotion
Community engagement, investments, and accountability beyond the tech campus
Policy positions beyond partisanship
And if you work at a sea.citi member company, we'll have additional breakout sessions with the panelists following the public event .
Panel Discussion
Kim Vu, Global Head of Diversity & Inclusion, Remitly
Neal Myrick, Global Head of the Tableau Foundation, Salesforce
Stephen Uy, Head of Public Policy and Community Engagement, NW, Facebook (moderator)