Description
A Wider Bridge Presents
Beyond the Bridge DC
Join A Wider Bridge and LGBTQ and allied supporters of Israel for a community cocktail reception featuring alumni of AWB's LGBTQ Leadership Missions to Israel.
Tickets
$18 General Admission/Free for 2016-17 AWB Members
Open Wine and Spirits Bar
Hosted by Chris McCannell, AWB National Advisory Board

Our Speakers

Aaron Tax, Director of Federal Government Relations, SAGE
Jason Barnes, Performance Artist
Julie Tagen, Chief of Staff, Rep. Jamie Raskin (D-MD)
Host Committee
Jason Barnes, Aaron Tax, Julie Tagen
Neil Glick (AWB Activist, Member)
Jamie Kirchick (Fellow, Foreign Policy Insitute)
The Honorable Jim Kolbe (Former US Congressman)
Bruce Maxwell (Board Member, A Wider Bridge)
Jim Moon (Board Member, A Wider Bridge)
Rabbi Gil Steinlauf (Chief Rabbi, Adas Israel Congregation)
Stuart Kurlander (Partner, Latham and Watkins)
Gregory Angelo (President, Log Cabin Republicans)
Ron Kaplan
Ben Rosenbaum
AJ Campbell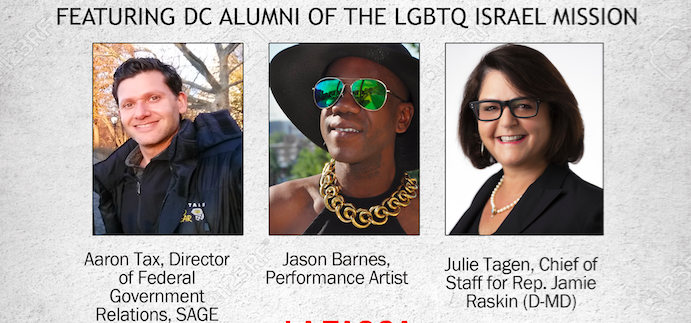 Questions? Email Jordan Schwartz at Jordan@awiderbridge.org.