"Beyond the Boundaries" - A Single Mother's Conference

Friday, February 25, 2011 at 7:00 PM

-

Sunday, February 27, 2011 at 12:00 PM (EST)
Event Details
Fathers Incorporated, United Sisters of New York, Black Child Development Institute of Albany, Raising Him Alone Campaign, Strategies for Empowered Living and the Open Society Foundation's Campaign for Black Male Achievement presents "BEYOND THE BOUNDARIES" a conference for Single Moms. This conference will address the impact of father absence on children, mothers, family and community.
February 25th – 26th 2011 in Albany, New York. This three-day conference will begin with a lecture given by a National Speaker on Friday, along with a film screening of "Man-UP; The Fatherless Speak;" a full day of workshops and another film screening of "We Need to Talk; A Message to Our Daughters" on Saturday and a special Sunday Morning Church service with Pastor Christina Staton, dedicated to Single Mothers at the Empire Christian Center. Location for Saturday Conference to be announced
A recent report suggests that 73% of ALL Black babies born will be so to Out-of-Wedlock mothers (single moms). While this may not be shocking to most, it is especially troubling to know that the vast majority of these children will spend a significant portion of their lives without an active, involved and responsible father. Consider this:
r  Father absence has risen greatly in the last four decades. Between 1960 and 2006, the number of children living in single-mother families when from 8% to 23.3. Today 34% of children live absent their biological father (24 Million)
r  In 2003, 23.5 percent of birth to white mothers, 68.5 percent to black mothers, and 45 percent of births to Latino mothers were out of wedlock.
r  The Federal Government spent at least $99.8 Billion providing assistance to father-absent families in 2006
This is important because of these statistics according to wwwchangingfatherhood.org:
r  Children in father-absent homes are five times more likely to be poor. In 2002,
r  A 2002 Department of Justice survey of 7,000 inmates revealed that 39% of inmates lived in mother-only households. Approximately 46% of jailed inmates in 2002 had a previously incarcerated family member. Only 20% experienced a father in prison or jail.
r  Fatherless children are twice as likely to drop out of school.
r  Students living in father-absent homes are twice as likely to repeat a grade in school; 10% of children living with both parents have never repeated a grade, compared to 20% of children in stepfather families and 18 percent in mother-only families.
For more information contact us at fathersincorporated@gmail.com or at 518-227-6161. Full information will be available at www.fathersincorporated.com by January 7th.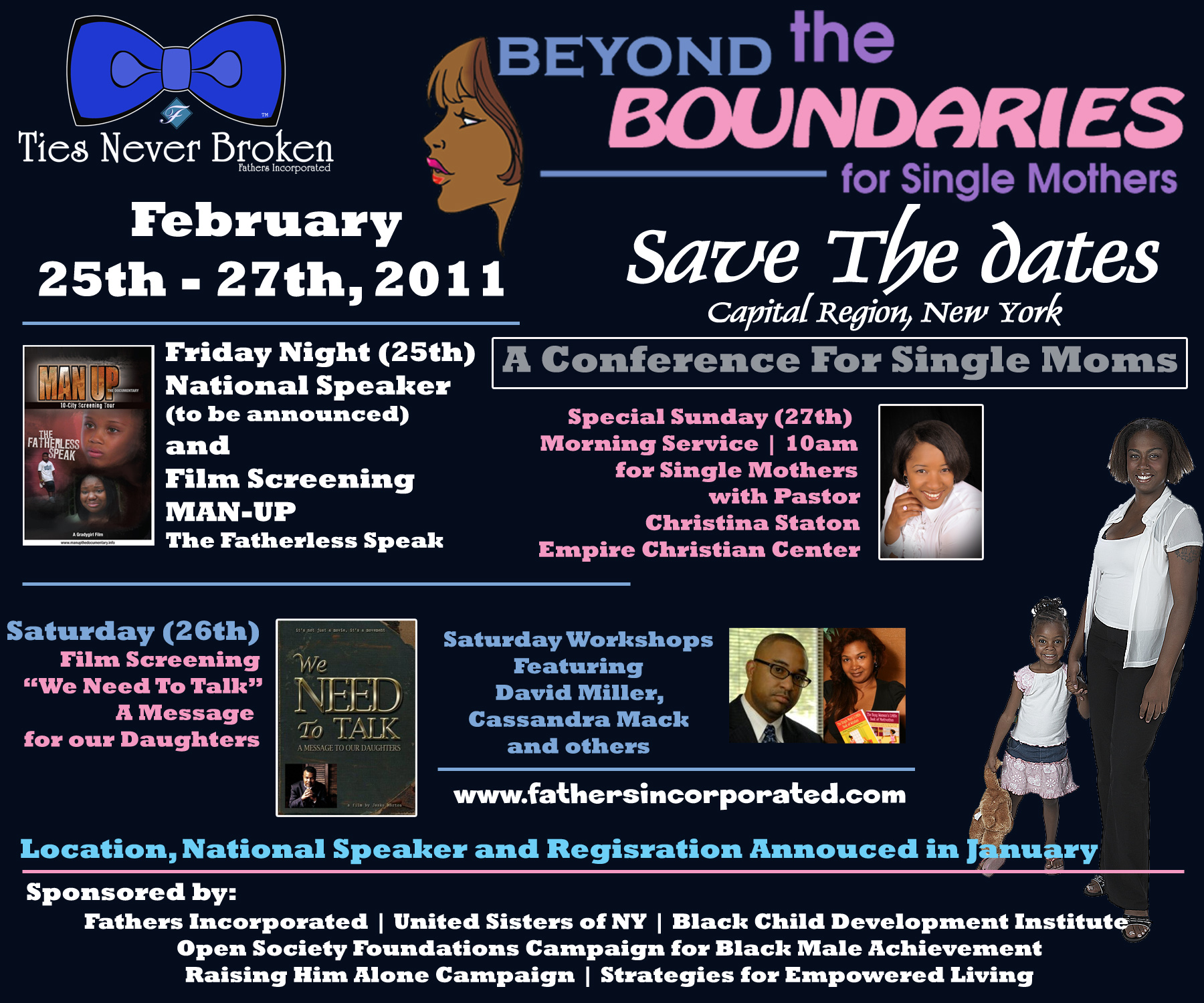 When & Where

Empire Christian Center
1594 Central Avenue
Albany, NY


Friday, February 25, 2011 at 7:00 PM

-

Sunday, February 27, 2011 at 12:00 PM (EST)
Add to my calendar
Organizer
Fathers Incorporated
Fathers Incorporated is a 501(c)3 not-for-profit (S) corporation and is dedicated to strengthening the community and family infrastructure by encouraging and enabling the positive involvement of fathers in the lives of their children. Our mission also includes skills training to strengten healthy relationships and marriage. We do this through the use of innovative social marketing and multi-media platforms, event planning, training, presentations, traditional communications, and product development. 
"Beyond the Boundaries" - A Single Mother's Conference