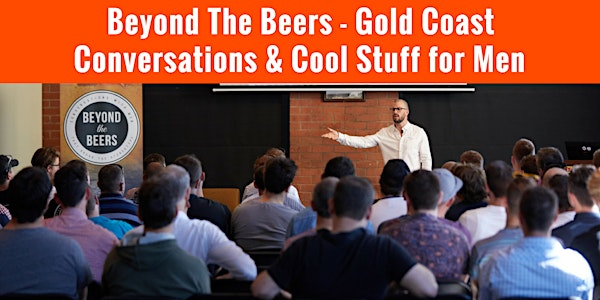 BEYOND THE BEERS - Conversations & Cool Stuff For Men - GOLD COAST
When and where
Location
Miami Marketta 23 Hillcrest Parade Miami Gold Coast, QLD 4220 Australia
Description
Is missing something?
Maybe you've been cruising.
Something doesn't feel quite right.
You know there should be more.
But what is it and how do you get it?
Life is so BUSY now.
Getting any time for a catch up with mates is almost impossible.
And when you do it's not like there's much to talk about except work, sport, and the same news you all read anyway.
So you finish your beer, get another round, ignore the gaping hole and just keep things on the surface level.
We get it, we've been there; it's easier to numb & distract than confront the REAL conversations.
---
What to expect at this groundbreaking event…
4 hours

5 Powerful speakers: Nick Bradley-Qalilawa, LIVIN, Dr Chris Dickson, and host Mike Campbell


6 challenging, courageous and kickass conversations

A bunch of like-minded men sharing stories, laughs and a few cold beers
This is an Event for…
Men who want to talk about the stuff that's missing.
Men who want to face their own BS.
Men who want to take having a beer with mates to a new level;
having the conversations others aren't willing to have.
If you're ready to grow in confidence and get more from your life, register now.


---
We'll have a keg of Stone & Wood on the day - serving CHEAP schooners with all proceeds from beer sold on the day going to our partners at LIVIN.org "It ain't weak to speak"
Created and run by Men's coach, author, and founder of The School of Personal Mastery coaching program for men, Mike Campbell.
If you want to come, best be quick, tickets highly likely to sell out - VIP tickets
FOUR REMAINING

- just $90 including an intimate and exclusive dinner that night with Mike and a small group of men.



DETAILS:
Gold Coast - Miami Marketta, 23 Hillcrest Pde
- 9am - 1pm (Registration from 8:30am)
- 11th August 2018
Click GREEN button TOP RIGHT to get your ticket and we'll be in touch with you soon.
See you there on the 11th.
Get your tickets for the Beyond The Beers Event here. More info about the day, our speakers and partners can be found on the site here.

Big thanks to our Partners .....
Miami Marketta, LIVIN, Stone & Wood, lululemon athletica Gold Coast, ACV Strength Co, POGO Physio, Seedlip spirits, gentSac, Media8, BSKT cafe & Wholefoods, Hype agency