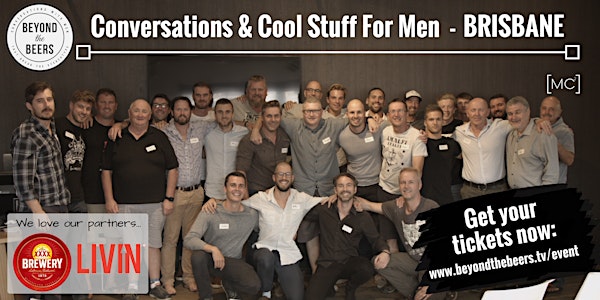 BEYOND THE BEERS - Conversations & Cool Stuff For Men - BRISBANE
When and where
Location
XXXX Brewery Cnr Black & Paten Streets Milton Brisbane, QLD 4064 Australia
Description


Supporting Men in Gaining More Time, Confidence & Success in Their Lives
Don't you think the Male Stereotype is Outdated? Times have changed.
Being a man is no longer simply about being tough, building things, going to war, or being the provider. Sure, it can be these things, but it is so much more.
What to expect at this groundbreaking event…
4 hours

5 Powerful speakers

6 challenging, courageous and kickass conversations

A bunch of like-minded men sharing stories, laughs and a few cold Milton Mangoes


This is an Event for…
Men who want to experience the next level in their life;
More Time, More Clarity, More Confidence, and Greater Success.
Make it better, grab a mate, hit the XXXX Brewery with us for a cold one and a conversation that goes beyond the beers.
Created and run by Men's coach, author, and founder of The School of Personal Mastery coaching program for men, Mike Campbell.
If you want to come, best be quick, FINAL TICKETS CLOSE FRIDAY, SEPT 15th 12pm
If you're ready to question the bullshit stereotype of what it means to be a man, to stretch yourself, to grow in confidence and get more from your life, register now.
DETAILS:
BRISBANE -
- 9am - 1pm (Registration from 8:30am)
- 16th September 2017
- 'XXXX' Brewery Bar, Cnr Black & Paten Streets Milton, Brisbane, 4064
Click GREEN button above RIGHT to get your ticket and we'll be in touch with you soon.
Can't wait to have you there on the day!
Get your tickets for the Beyond The Beers Event here. More info can be found on the site here.
Big thanks to our Partners XXXX Alehouse and LIVIN