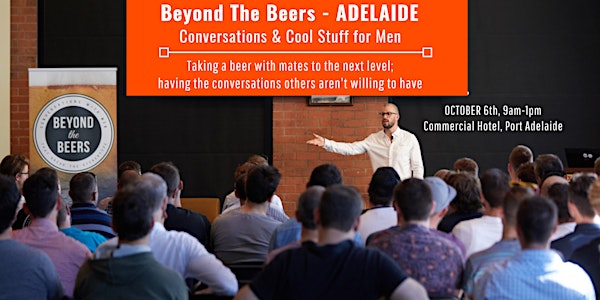 BEYOND THE BEERS - Conversations & Cool Stuff For Men - ADELAIDE
Date and time
Sat, 6 Oct 2018 9:00 AM - 1:00 PM ACST
Location
The Commercial Hotel 29 Commercial Road Port Adelaide Adelaide, South Australia 5015 Australia
Description
Is missing something?
Maybe you've been cruising.
Something doesn't feel quite right.
You know there should be more.
But what is it and how do you get it?
Life is so BUSY now.
Getting any time for a catch up with mates is almost impossible.
And when you do it's not like there's much to talk about except work, sport, and the same news you all read anyway.
So you finish your beer, get another round, ignore the gaping hole and just keep things on the surface level.
We get it, we've been there; it's easier to numb & distract than confront the REAL conversations.
---
What to expect at this groundbreaking event…
4 hours

5 Powerful speakers: Jeremy Forbes, Rob Yates, Jeremy Edwards, and host Mike Campbell


6 challenging, courageous and kickass conversations

A bunch of like-minded men sharing stories, laughs and a few cold beers
This is an Event for…
Men who want to talk about the stuff that's missing.
Men who want to face their own BS.
Men who want to take having a beer with mates to a new level;
having the conversations others aren't willing to have.
If you're ready to grow in confidence and get more from your life, register now.


---
We'll have some beers at the end of the day, and all proceeds going to our partners at INATT - I'm Not Afraid To Talk"
Created and run by Men's coach, author, and founder of The School of Personal Mastery coaching program for men, Mike Campbell.
If you want to come, best be quick, tickets highly likely to sell out - VIP tickets
FOUR REMAINING

- just $90 including an intimate and exclusive dinner that night with Mike and a small group of men.



DETAILS:
The Commercial Hotel, Port Adelaide
- 9am - 1pm (Registration from 8:30am)
- 6th October 2018
Click GREEN button TOP RIGHT to get your ticket and we'll be in touch with you soon.
See you there on the 6th.
Get your tickets for the Beyond The Beers Event here. More info about the day, our speakers and partners can be found on the site here.

Big thanks to our Partners .....
Commercial Hotel, INATT, lululemon, Zambrero, gentSac
*NOTE: Please note that on the day we will likely be capturing photos and video of the day. We do this to help tell a story of the event and promote future events so we can support more men like you. In purchasing your ticket you are agreeing to have your photo taken and included in promotional material. If you have an issue with this, please let us know and we'll be sure to remove you from any materials. However, we hope you can see the benefit of showing real men like you and me in these events - it's what gets more everyday men into the room and able to have the experience and growth at the events. Thanks - Mike
About the organiser
Men's coach, author, and Founder of Beyond The Beers, Mike is bringing effective and easy to implement personal development to everyday men who want to break free of the ordinary and achieve greater success in their career, relationships, and life - without the guilt and hang-ups. Mike is on a mission to change the narrative around masculinity and what it means to be a man, bringing a wide set of experiences and perspectives having lived, traveled and worked with men from across the globe.