Beyond the 2022 National Elections: Next Steps for Business (ONLINE)
Participate in our Australia and the Philippines Post National Election Roundtable discussing topics raised by members of the audience.
About this event
The Philippines is one of Australia's longest standing bilateral relationships. Both nations are not only geographically proximate but have over the last 75 years developed a wide-ranging friendship based around strong political, defence, security, development, education, and economic partnerships.
As the Philippines emerges from the pandemic, there are considerable opportunities for Australia to expand existing trade, investment, and economic ties. The Philippines' continuing demand for consumer goods and services – particularly technical services, agricultural products, e-commerce platforms, cybersecurity, and online education offerings – together with its ambitious infrastructure investment agenda are synergistic with Australia's industry capabilities.
EVENT FORMAT
In order to address issues pertinent to our audience, this event will follow a roundtable format where panelists will carry out discussion based on questions submitted by you, the participant, beforehand. The moderator will lead the discussions based on your questions.
Please submit your questions to president@wapbc.org by Tuesday 25 May 2022.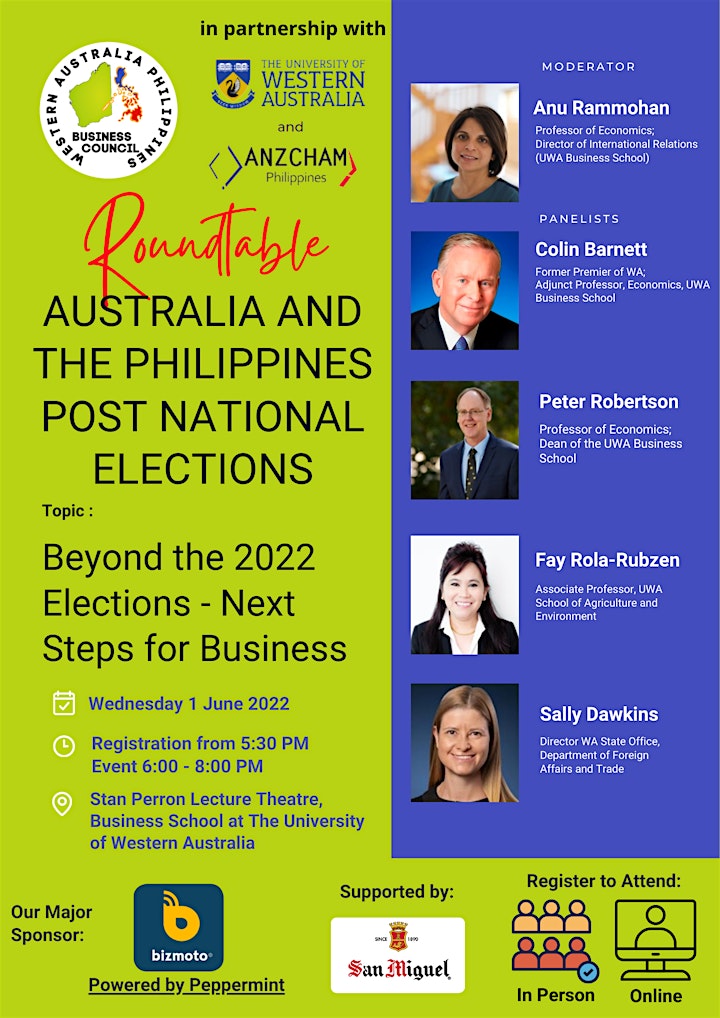 Peppermint Innovation is a FinTech company focused on the commercialisation of the Peppermint Platform, a proprietary technology platform targeting four key business sectors – mobile payments, eCommerce, delivery and logistics, and mobile financial services.
The Peppermint Platform is an innovative financial technology solution aimed at delivering financial inclusion to the unbanked and underbanked, facilitating mobile micro business enterprise and providing consumer convenience.
Commercially deployed and proven in the Philippines, Peppermint is powering the company's own bizmoto non-bank mobile micro-enterprise platform and delivering white label mobile banking app solutions to the banking sector."
The WAPBC has benefited greatly from having Peppermint Innovation as a Foundation member. Peppermint was fundamental in both proposing and progressing this important event in addition to being the sponsor.