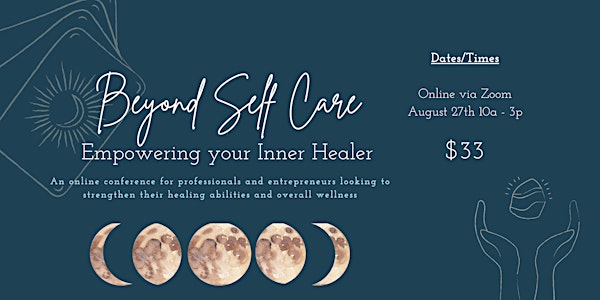 Beyond Self Care: Embracing your Inner Healer
An online conference for professionals and entrepreneurs looking to strengthen their healing abilities and overall wellness
About this event
An inclusive space for spirituals, professionals and entrepreneurs alike, no spiritual expertise needed.
Come join our online, sacred space and gain:
- Community and connection that continues after the series
- Practical, spiritual tools for continued empowerment and healing in everyday life
- Valuable information for healers of all levels around the topics of Psychic defense, lunar cycles, scarcity/abundance mindset and herbal healing
All workshops will be led by Priestess Shananda who has over a decade of training within spiritual healing and advising. Her expertise includes Reiki Healing, meditation, yogic practices and experience within African Spirituality and Pagan Traditions. The workshop series will also be co-facilitated by Amanda Roy and Jenny Medrano, both trained facilitators in DEIJ, collective liberation and somatic healing.
This online conference includes 2 Key sessions and a BONUS mini-session during lunch hour. Registration for the event is $33, and includes all 3 sessions.
WORKSHOP 1: Psychic Defense 101- How to protect your energy, and chi as life force (10am-12pm)
WORKSHOP 2: Lunar Living 101- Why lunar living is important and how it's connected to your emotional state (1pm-3pm)
BONUS Mini-Session (Optional): Scarcity and Abundance- How these concepts affect your mindset and how to shift it (Eat lunch together, online, and dialogue, 12-1pm)
These sessions will NOT be recorded as we are creating a sacred container that ensures a sense of safety and vulnerability.