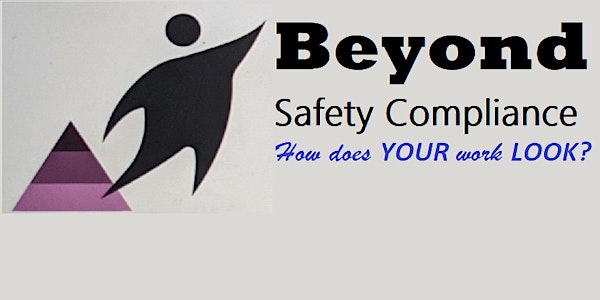 Beyond Safety Compliance Monthly Series
Beyond Safety Compliance will be running webinars monthly (3rd Wed) with guests, breakout rooms, and prizes!
About this event
After the Let's Take a Look at Work series, Joe Drago suggested that the webinar continue in a slightly different format. This is the result of this collaboration!
On the 3rd Wednesday of each month for 75 min, Beyond Safety Compliance will partner with a speaker and each will present their perspective on an aspect of work for 15 mins. Breakout rooms will follow, wrapping up with collective sharing and door prizes!
Make sure you sign up for an experience that is sure to enhance your learning, expand your network, allow you to engage in meaningful discussion, and perhaps win a prize. Treat yourself mid-week once a month to learn, participate, and root for your name on the wheel!
Current Partner: Gary Wong
Topic for October 19 2022: Storytelling
Stories are how humans have communicated since the inception of communication. Stories have evolved into news, books, movies and fairy tales. However, stories might not be used in our organizations as much as charts, tables and numbers. Often dismissed as anecdotes, stories can reveal much about our organizations that we otherwise would never know. However, are stories the penultimate? Come and learn about the status (and the desired status) of storytelling in organizations with Gary Wong at on October 19 2022 at 10:55 EDT (Zoom) and 11:00 EDT (LinkedIn Live)
Registration has changed - please sign up either on LinkedIn Live https://bit.ly/3UBiAPq or Zoom https://bit.ly/3UtvLSx
Any registrations made here on Eventbrite will still be honoured.
See what others have said about Let's Take a Look at Work:
This series balanced humor, logic, and new directions of thinking with multiple examples and sources that added to the validity of the topics. The icing on the cake was the conversations after the presentations, with many participants engaging with the group by adding their personal takes and experiences to the conversation. I came out of the experience with new connections, new knowledge, new resources, and a new perspective in several areas of thought. Looking forward to the next one!
- Andy Stevenson
Your session was interesting and cannot wait to attend the rest. I am so glad I got to know about this and yourself as well :) You should do these trainings in Universities and Collages (maybe one day!).
- Zara Hafid
Great presentation. I always find nuggets of gold in every talk you give. Thanks for sharing your considerable knowledge.
- Jason Hunter
Sending a big thank you! I got so much out of the session. I'm looking forward to the next one!
- Laura Faccone
Thank you Tanya, really enjoyed the presentation and I look forward to looking deeper into the links you provide as well.
- Gordon Walsh
Thank you very much, Tanya! Really enjoyed your presentation and yesterday and the discussion. I thought it was a wonderful overview and explanation of several key topics, and I learned some new things along the way. You're a great presenter – it's clear you are really passionate about these topics!
- Esteban Tristan
I really enjoyed your talk today. I admire and appreciate your enthusiasm and passion for the topic. You are an incredible communicator! I am looking forward to next week's talk. Great job!
- Mike Phillips
Thanks Tanya. I really appreciate this session and keeping people engaged. Your enthusiasm is fantastic.
- Travis Robertson
Thanks again for this wonderful session! Highly recommend others to sign up, and scratch beyond the surface of typical compliance-driven thought processes.
- Spiros Lenis
So very thought provoking Tanya! 4 really good sessions delivered with passion. Each of the 4 session took a different look at work, not your normal look at work but very different perspectives. Each session left me with much to reflect on. Thank you Tanya!
- Phillip Harris
This is a thought provoking presentation to help you self assess.
- Anonymous
Thanks for hosting this event. Thanks again for being a thought leader in this area and taking the time to share your experiences and findings. Enjoyable.
- Hans Loeffelholz
Very worthwhile sessions and good information! Thanks Tanya!
- Paul Hader
Thank you - it was a great session x
- Lynne Williams
Thank you Tanya for all of the great presentations, especially the cool videos today! I got so much insight that has allowed me to engage in continuous learning and growth these past few weeks. Looking forward to seeing your content in the future!
- Shelja Garg
Tanya Hewitt is prolific online presenter who churned our 4 amazing sessions in 4 weeks!! WOW!!!
- Robert Manolson
You did another great job on this presentation Tanya. It was my pleasure to attend. All the very best.
- Stephen Whiteley
Thanks Tanya, The series was time well spent. I truly appreciated your insight into what makes people and organizations tick. Knowing this is key to being able to influence change.
- Jean Pierre Mainville
Once again another jam-packed session filled with thought-provoking insights. Look forward to future endeavours put together by Tanya!!!
- Robert Volkman
Tanya
Thank you for your extensive research and power-packed webinars! And I connected with several like-minded, passionate safety professionals who participated in your webinars via LinkedIn.
Most appreciative,
- Joe Drago
Don't miss out - sign up today!