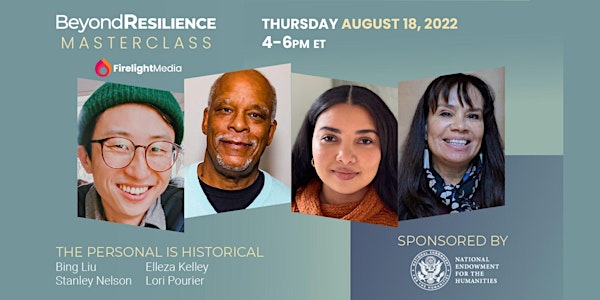 Beyond Resilience Masterclass: The Personal is Historical
Join Firelight Media for a Beyond Resilience Masterclass on using personal archives for documentary filmmaking.
About this event
We all have access to archives. Letters from our youth, photos, home videos, memorabilia. How can these personal mementos be stitched together to tell stories of our past, and more broadly, of our collective histories?
For this Beyond Resilience Masterclass, supported by the National Endowment for the Humanities, we'll collect personal documentary filmmakers and historians to discuss the transformative power of the personal. How can one photo or personal letter challenge the prevailing narrative of a historical moment? How can we, as filmmakers, think of archival materials more dynamically – not as a visual crutch, but as a main character in the story? And, finally, given the generations-long struggle of marginalized groups to tell our stories in spite of subjugation, what's the power that lies in simply having access to an archive?
Panelists:
Bing Liu, Academy Award-nominated Filmmaker, Minding The Gap
Elleza Kelley, Assistant Professor English and African American Studies at Yale
Stanley Nelson, Academy Award-nominated Filmmaker, A Place of Our Own
Lori Pourier, President, First Peoples Fund
Accessibility Notice: This event will include live closed captions.
Beyond Resilience Masterclasses, supported by the National Endowment for the Humanities, will focus on deeply-researched historical documentary films by and about BIPOC communities. This Masterclass will be conducted via Zoom Webinar, enabling participants to submit questions throughout the event through an extended Q&A session. Registrants are encouraged to submit questions for the panelists in advance via this RSVP page as well.
About Firelight Media
Firelight Media is a premier destination for non-fiction cinema by and about communities of color. Firelight Media produces documentary films, supports filmmakers of color, and cultivates audiences for their work. Firelight Media's programs include the Documentary Lab, Groundwork Regional Lab, and the William Greaves Fund. Firelight Media also produces digital short films, including the recently announced collection HOMEGROWN: Future Visions. Learn more at firelightmedia.tv.
About the National Endowment for the Humanities
Created in 1965 as an independent federal agency, the National Endowment for the Humanities supports research and learning in history, literature, philosophy, and other areas of the humanities by funding selected, peer-reviewed proposals from around the nation. Additional information about the National Endowment for the Humanities and its grant programs is available at: www.neh.gov.