Beyond Religion: Science and Religion

Sunday, August 6, 2017 from 12:30 PM to 3:00 PM (CDT)
Event Details
Beyond Religion: Science and Religion
Location: Unity Pyramid
Time: 12:30 pm - 3:00 pm
This is the fourth and final lecture of our Beyond Religion Summer Lunch and Learn Series with professors from the Religious Studies department of the University of Houston. In the last years, turning points in physics and philosophy radically changed everything we knew about God, the universe, and ourselves. Dr. Luca Oliva's lecture moves into this new territory focusing on the relations between science and religion. First, he will present new philosophical ways of understanding and proving the existence of God, along with the classic metaphysical and probabilistic arguments. Then, he will address one of the biggest questions of all the times: Is God really the creator of the world? Surprisingly enough, scientific evidence undoubtedly points to an external cause of the world. The Higgs boson (aka "God Particle"), recently discovered in physics (2012), seems to reconcile big-bang theory and creationism. Maybe God is truly hidden in the universe (as Einstein believed) and Aquinas's cosmology (derived from Al Ghazali's Kalām argument) is definitely correct.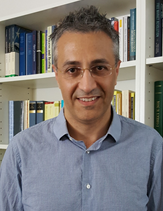 Dr. Luca Oliva is an Instructional Assistant Professor at the University of Houston, a Carnegie-designated Tier-One public research University. He specializes in (Kantian) epistemology, and philosophy of mathematics; he also has research interests in ethics and meta-ethics. Dr. Oliva has published on Kantian intuitionism and normativity, and number theories in philosophy. His papers have appeared in the Kantian Review, Rethink Kant (NAKS Series), and in collections of Cambridge University Press, and De Gruyter Publishers. He has taught undergraduate and graduate courses in cognitive sciences, ethics and applied ethics, logic (including critical reasoning), modern philosophy, phenomenology, among others. In 2016, Dr. Oliva was an academic visitor at the University of Oxford (philosophy department, Trinity Term) where he will return in 2017. In 2015, he was a visiting professor at the Institute Vienna Circle (University of Vienna) and the University of Bergamo (Italy). After graduating from the University of Milan in Italy (2006), Dr. Oliva was DAAD postdoctoral fellow in philosophy at the University of Freiburg in German (2006-2007) where he previously studied as a Socrates-Erasmus undergraduate (the EU academic exchange program for students with the highest GPA).
_________________________________________________________________________________
*Our Youth Department will be selling food for attendees and students are also welcome to bring their lunch to the class. Doors will be open at 12:30 pm. Beverages will be provided. 
Childcare is available by reservation for on-campus classes and events for an additional fee. Please  make your reservation by going to www.unityhouston.org/childcare at least 48 hrs in advance.
When & Where

Unity of Houston
Pyramid
2929 Unity Drive
Houston, 77057


Sunday, August 6, 2017 from 12:30 PM to 3:00 PM (CDT)
Add to my calendar
Organizer
Unity of Houston
Unity of Houston offers positive, practical teachings that support spiritual evolution and abundant living. Unity welcomes people of all races, religions, social backgrounds, lifestyles and economic levels in dignity and love. We take an extremely positive approach to life, emphasizing the good in people and all of life.
Beyond Religion: Science and Religion