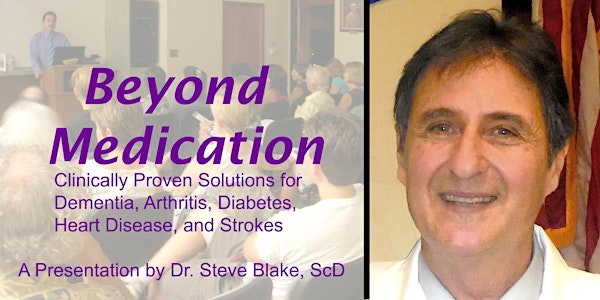 Beyond Medication~Safe Solutions for Arthritis, Diabetes, Strokes, Dementia
When and where
Date and time
Thursday, September 26, 2019 · 6:30 - 8:30pm EDT
Location
CapeSpace 100 Independence Drive Hyannis, MA 02601
Description
Beyond Medication: Clinically Proven Safe Solutions for Arthritis, Diabetes, Dementia, Heart Disease, and Strokes.
Presented Dr. Steve Blake, ScD
Let's go beyond medication with safe and effective approaches when possible:
* Which foods decrease pain and inflammation?
* Learn which fat to avoid to reverse diabetes
* Can diet protect against strokes and heart attacks?
* Discover how to avoid Alzheimer's disease
* Learn about clinically proven medical plants for arthritis and Alzheimer's disease
Medications are sometimes needed. Let's look at what we can do to prevent and treat ourselves beyond medication. Let's not just mask our symptoms. Let's correct the cause of our problem. Even though we may feel a bit better, medication may not slow the progression of a disorder. We can look for safer solutions than medications. After all, medication is a leading cause of death. Don't miss the safer, but still powerful effects of diet, essential nutrients, medical plants, and fitness.
• In osteoarthritis, clinical trials have shown four medical plants that reduce pain and inflammation without side effects, but medical doctors do not prescribe medicinal plants in America. • For diabetes, learn how to control blood sugar with diet. Many clinical trials have even reversed diabetes by reducing dietary animal fat and sugar. • Find out how to reduce your stroke risk by 99% with simple food choices. See how scientists have unclogged arteries with diet. Using these techniques, which are based upon recent medical studies, you may be able to reduce your reliance on medications.
• Learn how to identify dietary sources of inflammation, such as endotoxins and arachidonic acid. Discover which foods contain the natural anti-inflammatory substances quercetin, curcumin, anthocyanins, and indole-3-carbinol.
• Find out which antioxidants are needed to help keep brain cells alive, protect cartilage, and reduce arterial damage. Learn which foods have the most effective antioxidants.
• With Alzheimer's disease, medications do not slow progression. Certain dietary changes, vitamins, methylation agents, and medical plants can slow progression. Let's look beyond what just medication can do.
1. First of all, stay healthy
2. Use dietary changes to relieve the problem, if possible
3. Be sure to get enough fiber and reduce saturated fats
4. Improve fitness, environment, and stress
5. Find medical plants that may help
6. Be sure to be fully nourished. Analyze and supplement when needed.
7. Reduce inflammatory foods & increase anti-inflammatory foods
8. Get plenty of antioxidants
10. Be careful with medications. Explore risk versus benefit.
Thursday, September 26, 2019
Where: CapeSpace
100 Independence Drive, Hyannis, MA
WHEN: 6:30-8:00 PM: Steve Blake, ScD, "Beyond Medications - Safer Solutions" Q & A afterwards.
$15: Savings Online Registration. Deadline, Tuesday, Sept. 25, 11:00pm.
Register: beyondmedications.eventbrite.com
$20: At the Door: Cash or checks only. Thank you!

To send a check: Path to Vibrant Health, 40 Bay Farm Road, Duxbury, MA 02332
Questions: Call Dorothy Torrey 781-452-7585; Email: dorothy@PathToVibrantHealth.com
About Dr. Steve Blake, ScD: Dr. Blake is a clinical research scientist and nutritional biochemist. He has lectured at Harvard's McLean Hospital and gave Grand Rounds at Boston University Medical Center. Dr. Blake has authored over one dozen books and offered classes at the University of Hawaii. He is Director of Nutritional Neuroscience at the Maui Memory Clinic. He is also the Lead Advisor for the Gale Encyclopedia of Alternative Medicine. Dr. Blake just returned from China where he is creating an anti-aging program at a mega-hospital.
For more information, visit www.DrSteveBlake.com
About the organizer
Dorothy Torrey is an alkaline health and lifestyle coach who inspires and teaches others to bring their bodies back into balance to have vibrant health. Being a Life Force Educator, a Certified Wellness Cuisine Coach and a Reconnective Healing Practitioner, Dorothy is an expert in understanding how our bodies heal, the benefits we receive from having an acid/alkaline or pH balance, and being aligned in mind, body and spirit. She has experienced and has overcome many of life's threatening health challenges that have lead to her success in understanding the root causes of illness and dis-ease.  Dorothy not only teaches alkaline health, but she has also walked her "talk" for the past 16 years.

To read my story, visit my page at: pathtovibranthealth.com