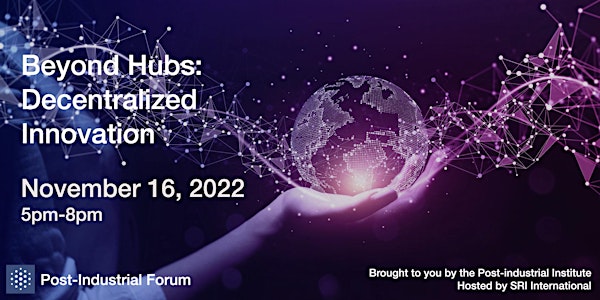 Beyond Hubs: Decentralized Innovation
What happens when innovation hubs meet hybrid work? Where are the biggest opportunities in the post-pandemic innovation landscape?
When and where
Location
Hosted by SRI International 333 Ravenswood Avenue Menlo Park, CA 94025
About this event
About the Post-Industrial Forum
Operated by the Post-Industrial Institute in collaboration with industry partners, the Post-Industrial Forum focuses on how to navigate the transition to a decentralized post-industrial economy and culture.
Forum attendees and speakers include senior executives, investors, founders, and policymakers. After two years of Covid restrictions and online-only events, we were excited to resume in-person events in 2022.
Beyond Hubs: Decentralized Innovation
Silicon Valley has long enjoyed an enviable density of tech entrepreneurs and investors, but other strong hubs have emerged as well. These include Singapore, NYC, Tel Aviv, London, Tokyo, Bangalore, Shanghai, Austin, Stockholm, Los Angeles, and Berlin. Silicon Valley still leads. As of October 2022, Global 2000 companies operate 94 corporate venturing offices and 104 R&D centers in Silicon Valley.
The innovation landscape has shifted powerfully – twice. First, with the Internet making global real-time collaboration possible, and then again with the Pandemic forcing many to work from home. With about 40% of Americans working from home and distributed work becoming mainstream, innovation is now increasingly decentralized. In this session, we will look at what happens as innovation moves beyond traditional innovation hubs.
We will discuss:
Hybrid work in innovation hubs
Recruiting and motivating remote innovation talent
Remote collaboration, including collaboration between hubs
The relationship between outposts and company headquarters
Innovation opportunities outside major hubs
What industries do best with decentralized innovation
Investing in decentralized ventures – risks and benefits
The post-pandemic innovation landscape
Program
5pm: Reception, networking
Enjoy wine, beer, sodas, sangria, and light appetizers
6pm: Opening Remarks

Dr. Suresh Sunderrajan, Director of Global Partnerships, SRI International
6:10pm Post-Industrial Innovation
Frode Odegard, CEO, Post-Industrial Institute

6:30pm: Beyond Hubs – Panel Discussion + Q&A
Laureen Knudsen, Chief Transformation Officer, Broadcom Software
Matthieu Soulé, Head of BNP Paribas C.Lab Americas, BNP Paribas Group
Deborah Magid, Director of Strategy, IBM Ventures
Stefan Petzov, VP Innovation and Technology, Silicon Valley Outpost, Swisscom
7;30pm: Networking
Make new connections and enjoy a surprise dessert
8pm: Program Concludes
Speakers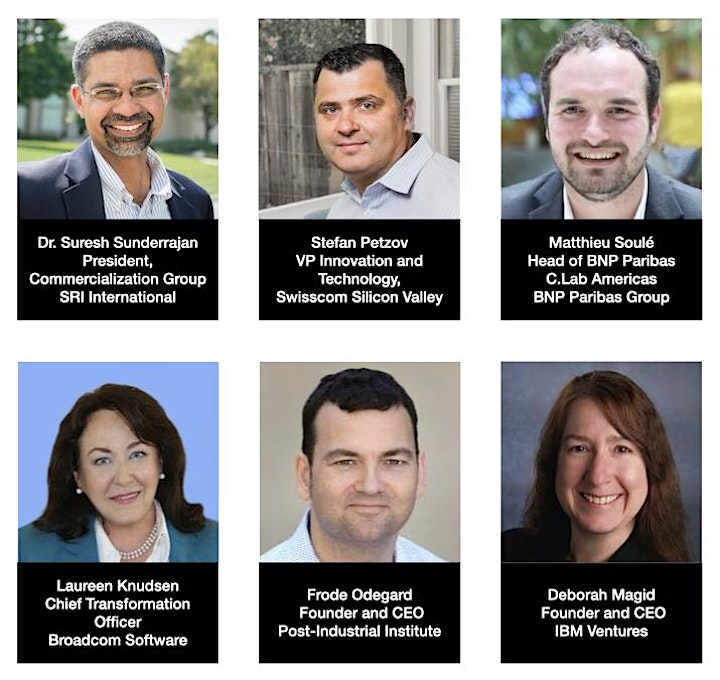 Deborah Magid, Director of Strategy, IBM Ventures
Deborah Magid represents IBM's high growth software and hardware businesses in the company's IBM Ventures. She is responsible for sharing insights about emerging markets, technologies, and business models with venture firms and entrepreneurs around the world. She also brings insight from the venture community to the development of IBM's growth strategies. Deborah is responsible for fueling IBM's ecosystem pipeline in high growth strategic areas such as artificial intelligence, internet of things, sustainability, security, analytics, and cloud computing; and contributes to filling out the IBM product portfolio through M&A. She leads the IBM team of venture partners based in innovation ecosystems around the world.
Deborah is based in Silicon Valley. Her relationships are global and extend into emerging geographies. Deborah is a frequent spokesperson on topics of relevance to entrepreneurs and investors, such as open innovation, disruptions in various industries, ESG and climate, women in technology and trends in investing. She is a former board director and past Chair of Silicon Valley Forum, and a member of the Corporate Venture Advisory Board of the NVCA.Matthieu Soulé, Head BNP Paribas C.Lab America, BNP Paribas Group
Matthieu Soulé is the Head of the Innovation Lab of BNP Paribas in San Francisco and Venture partner for BNP Paribas climate tech fund called BNP Paribas Solar Impulse Venture Fund. He advises global clients, who are leaders in financial services, mobility, energy, retail and food & ag sectors on their innovation strategy and their low carbon transition journey.
Matthieu is also involved in the startup community as a mentor for a startup accelerator called Sustainable Ocean Alliance (SOA) based in San Francisco and an advisor to GreenTech Alliance, a greentech startup association based in Europe.Matthieu received a Master's degree from Audencia Business School in management with a major in Consulting & International Strategic Management.
Laureen Knudsen, Chief Transformation Officer, Broadcom
Laureen Knudsen has led enterprise transformations in four global companies. She works with industry leaders and internal experts to define the future of business and bring Lean principles to all parts of an organization, focusing on optimizing end-to-end value stream flows, removing waste, and ensuring executives can make data-driven decisions.
Laureen is the Co-Author of Modern Business Management: Creating a Built-to-Change Organization. Laureen is a Forbes Technology Council Member and she is also on the Forbes 2021 Top 100 Women in Tech list.
Stefan Petzov, VP Innovation and Technology, Swisscom Silcon Valley Outpost
Stefan Petzov is leading Swisscom's Innovation Lab in Silicon Valley. In this role, he is responsible for identifying and evaluating new technologies and services. Stefan is also responsible for strategic innovation initiatives and works closely with the senior leadership to ensure that Swisscom is always at the forefront of innovation.
Frode Odegard, Chairman and CEO, Post-Industrial Institute
Frode Odegard studies how enterprises, investors, and policymakers can best navigate the transition to a post-industrial civilization and economy. He is the founder of the Post-Industrial Institute, which provides advisory, educational, and strategic services to corporates and investors to help them turn disruption into opportunity. Frode is also the founder of the Post-Industrial Forum, a global community formed to develop and promote a better understanding of the post-industrial transition and how to navigate it. Its members include investors, executives, founders, and policymakers.
Dr. Suresh Sunderrajan, Director of Global Partnerships, SRI International
Suresh Sunderrajan brings over 25 years of experience and a passion for innovation at the intersection of technology and business. He focuses on developing SRI's commercialization strategy and provides overall leadership for the institute's commercialization efforts. Sunderrajan oversees SRI Ventures, Global Partnerships, the Nomura-SRI Innovation Center (NSIC), SRI Products and the Center for Innovation Strategy and Policy (CISP).
Previous to SRI, Sunderrajan was Associate Laboratory Director for Advanced Energy Technologies at Argonne National Laboratory. He earned a doctorate in chemical engineering from North Carolina State University and a master's degree in system design and management from Massachusetts Institute of Technology. Sunderrajan holds more than 30 U.S. patents and has received the Distinguished Inventor Award at Eastman Kodak.